Astrology Books & Resources
Books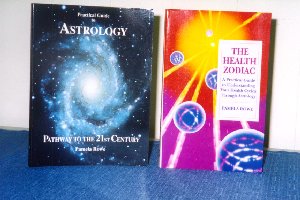 THE HEALTH ZODIAC
A Practical Guide to Understanding Your Health Cycles through Astrology
by Pamela Rowe
Not for general sale until reprinted. Watch this website.
'The Health Zodiac' covers the planetary cycles as they relate to our health and psychological wellbeing. Vulnerable body areas plus positive natural and herbal remedies are covered. A deeper understanding of our place in time and space.
"This book represents over 20 years research on a vitally important subject by one of the most dedicated Astrologers in the world.
"This book is a practical guide to understanding your health cycles through Astrology and for it, Pamela Rowe has received the special Astrological Monthly Review Award for services to Astrology."
Source: Astrological Monthly Review, February 1991
PRACTICAL GUIDE TO ASTROLOGY
Pathway to the 21st Century
by Pamela Rowe
$16.95 plus postage & handling for visitors to this website.
'Practical Guide' was written as a result of many requests from those having their personal horoscope interpreted, who posed the question "How do I learn more?" It is the prime Australian Academy of Astrology & Cosmobiology text book, used to take Beginners to Certificate level and includes simple explanations on many areas of astrology, calculation of the natal horoscope, plus example charts for interpretation.
"As a textbook explaining how to cast a horoscope I can find no fault with it and for students who seek guidance in this area alone the price of the book is easily covered.
"Pamela's clear explanation of what midpoints are is refreshing and this information guarantees the newcomer to astrology gathers a wider useful knowledge than is presented in many more expensive publications.
"Throughout the entire 150 odd pages, the reader is treated to fact after fact that makes astrology come alive.
"Highly recommended to people who want to learn more about astrology without having to mess about with unnecessary trimmings."
Source: Astrological Monthly Review, March 1996
BOOK ON THE LUNAR SAROS
Although much work has already been done on the Solar Saros Cycle, the fascinating Lunar Saros Cycle has generally been neglected. Murray Beauchamp, Researcher and Professional and Diploma Member of the Australian Academy of Astrology & Cosmobiology, has worked for many years with the Lunar Saros Cycle.
"
THE CRYPTIC CYCLE -- ASTROLOGY AND THE LUNAR SAROS"
By Murray Beauchamp
This unique book breaks fresh ground with its concept of how the lunar saros holds a key to understanding fate as simply another level of cosmic synchronisation and will appeal to astrologers at all levels looking for new avenues to understanding the deeper order supporting the practice of astrology. It is a journey into uncharted waters. The mystery of the saros is unravelled and is placed in historical perspective both astrologically and astronomically.
Email pamrowe@astrocos.com.au for further information on how to purchase your copy of this book.
PURCHASING BOOKS
TO ORDER 'Practical Guide to Astrology' email
pamrowe@astrocos.com.au
Postage and handling for books is $9.00 (Aus$) for orders within Australia.
Overseas orders -- please email pamrowe@astrocos.com.au for a postage quote to your country.
COMING SOON .... Pre-Loved Astrology books for sale at good prices. :)