MR. MORRISON'S MIRACLE
Astrological Review of the 2019 Australian Federal Election
by Pamela Rowe, LPMAFA, FMFAA
On May 18, 2019 Australia held a Federal election to establish whether Scott Morrison the current Prime Minister and his Coalition Party would continue leading the country or whether Opposition Leader Bill Shorten and his Labor Party would replace him.
After Mr. Morrison was re-elected he proclaimed it a "miracle" as polls and most of the experts had considered Mr. Shorten a sure thing. Mr. Morrison emphasized financial security for families, involving rejection of new taxes for negative gearing and higher income earners. Mr. Shorten emphasized increased care of the less fortunate by creating new taxes, which were seen by many to jeopardize their own personal security. What does Astrology have to say about it?
HOROSCOPE FOR ELECTION DAY (FIG. 1)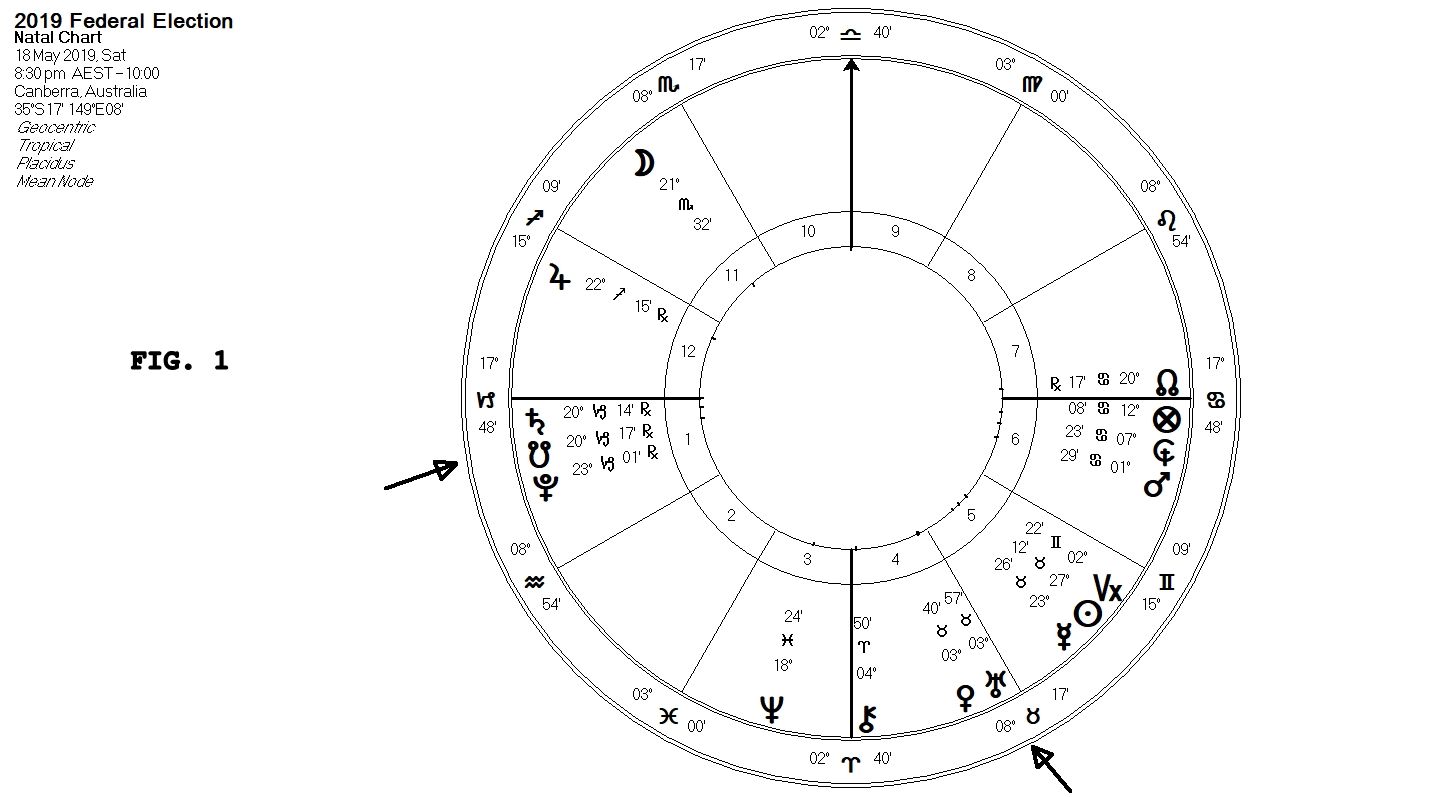 Firstly we will consider the horoscope for the day of the election and its general flavor. It has been calculated for 8:30 pm in Canberra, when it was thought that there would be some indication of who was likely to win.
Never under-estimate the ability of the general population to intuitively read the flavor of the day. As Astrologers we merely try to interpret the existing planetary patterns. The election was held on an applying full moon between Taurus (Sun) and Scorpio (Moon) = emotion charged awareness. Venus, ruler of Taurus, was placed in Taurus conjunction to Uranus = unexpected developments and changes, ultimatums, rebellion.
However the most informative pattern in the heavens was the conjunction between Saturn in Capricorn conjunct the Moon Nodes axis. These points become very close from late May and remain for months after. The pattern would have been felt for weeks prior to the election, creating an atmosphere of fear, unexpected health conditions, a lack of adaptability and loss. In extreme cases there have been relationship problems and the physical loss of loved ones. The Moon Node axis relates to events concerning the masses and for many a karmic experience. At its most positive this pattern can focus on senior, wise people and intense involvement in Government affairs.
Earlier in late March 2019 Pluto conjoined the axis, heightening power struggles between people of influence. On Election Day the Saturn/Moon Node axis/Pluto group was placed between 20 deg. 14min and 23 deg.01min Capricorn, less than 3 degrees apart. The pattern was ascending between about 8.30 and 8.55 pm, coinciding with the beginning of the major disturbance or miracle, depending on your preferences.
MORRISON Vs. SHORTEN
Because I am applying several astrological techniques, only the most obvious patterns have been tabled. As I don't have exact birth times for either leader, I have placed their calculated birth planet positions for noon into the Australian Geodetic houses, which gives us a picture of how each politician will blend into the current Australian political structure.
The Geodetic Chart of Australia is measured between the longitude of the 0 degrees Greenwich meridian and Canberra ACT Australia. Each degree of geographic longitude is understood to correspond to a degree of the zodiac. Canberra's location has a Geodetic Midheaven (= Government Party in power, National honour) of 29 deg. 07min. Leo and a Geodetic Ascendant (= People of Australia, our lifestyle and physical conditions) of 19 deg.41 mins. of Sagittarius.
A good reference book on Geodetic charts is "The Geodetic World Map" by Astrologer Chris McRae, PMAFA.
Currently transiting Jupiter in Sagittarius is conjunct the Australian Geodetic Ascendant, indicating that Australia and its people should benefit from the result of this election. The fact that transiting Jupiter is about to return to the Australian natal Jupiter position (25deg. 57min. Sagittarius) heralds a new 12 year Jupiter cycle, which does not represent reaping, but planting new strong seeds for the future. Further reaping will take time and patience.
The Australian Geodetic chart is featured in my article on this website "The August 2017 Total Solar Eclipse Review – Political Implications".
Also in that article I examined the charts of several recent past Prime Ministers and found that most had a particular birth planet conjunct the Australian Geodetic Midheaven (29 deg. 07min Leo). Let us not forget that this degree is conjunct the fixed star Regulus, a point of continuing good fortune for Australia. Those with positively placed natal planets or points at this degree in their birth charts are likely to experience good opportunities in this country.
In a particular time frame for birth years, slow moving Pluto (the planet of power, transformation and major upheavals) was close to the Australian Geodetic Midheaven, notably for the births of Malcolm Turnbull, Tony Abbott and Kevin Rudd. In Julia Gillard's case Pluto was over 9 degrees from the Geo Midheaven but her natal Uranus the planet of new concepts, unexpected changes and shocks was within half a degree of the Midheaven. It is not surprising that so many changes have occurred for these people in the context of their Australian leadership.
John Howard was born with natal Mercury the planet of communication within 5 degrees of the Geodetic Midheaven, suggesting the ability to communicate well and be understood by the people.
Scott Morrison was born with Jupiter the planet of expansion, optimism and good luck conjunct the Geodetic Midheaven -- as was Paul Keating.
Bill Shorten has no planets conjunct the Geodetic Midheaven. His Pluto is 18deg. 56min from Australia's Geo Midheaven. Jupiter is 31 degrees from the Geo Midheaven.
It cannot be said that a significant planet conjunct the Australian Geodetic Midheaven at birth is a requirement for Australian Prime Ministers, however it is surprising how many PMs do have this pattern.
SCOTT MORRISON – AUSTRALIAN GEODETIC CHART & ELECTION DAY (TRADITIONAL BI-WHEEL FIG. 2)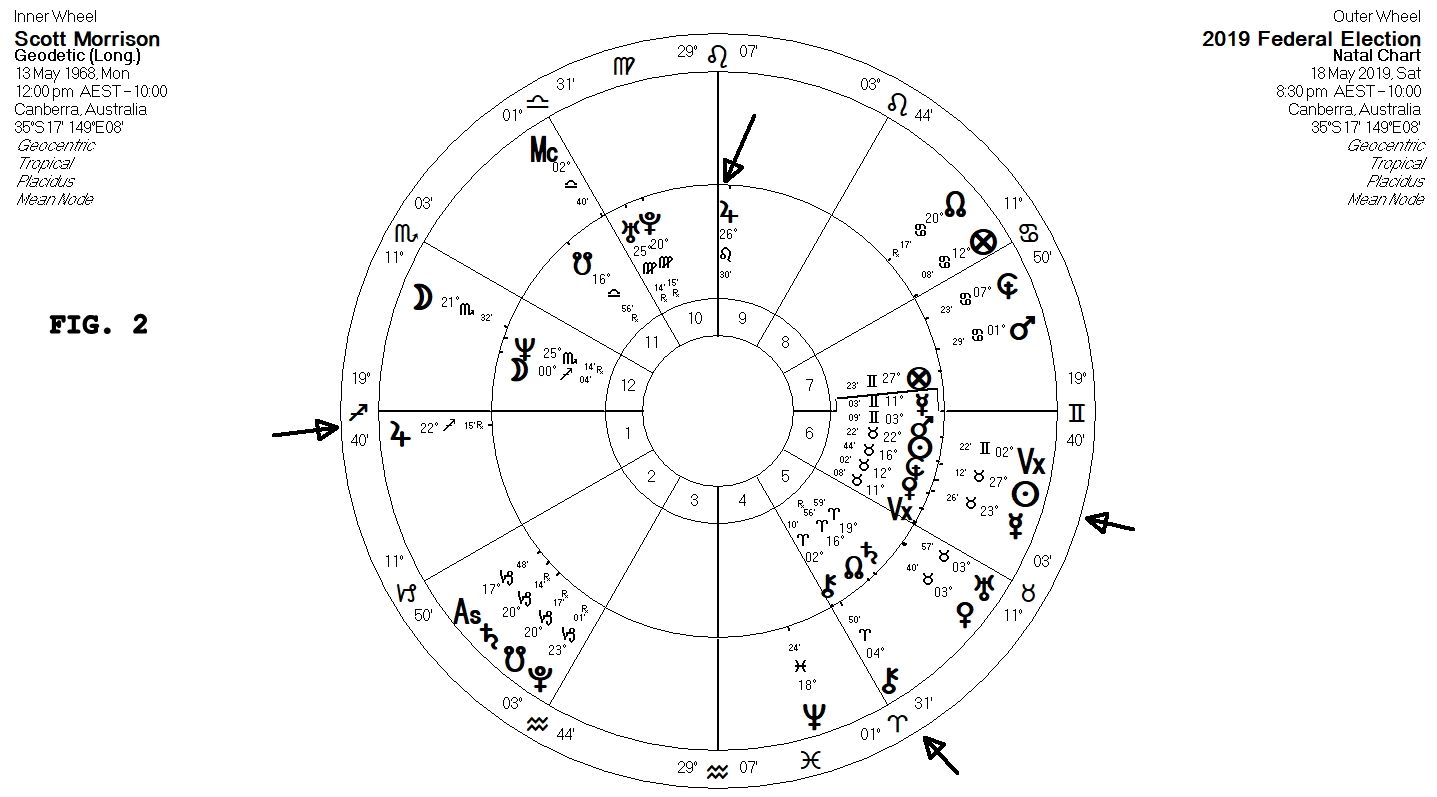 Mr. Morrison's culminating natal Jupiter can be seen on the inner wheel in an excellent waxing trine to the transiting Jupiter, giving him an instant advantage in the leadership race.
Transiting Sun and Mercury also form a square to his natal Jupiter. The applying full moon falls across his natal Sun/Neptune opposition in the houses of health, spirituality and service. This election pattern could activate Mr. Morrison's already heightened awareness of the health and services areas, to improve the outcome of the disadvantaged and less fortunate.
Mr. Morrison's natal Pluto is square to the Geo Ascendant (powerful personality), square Jupiter T, opposition Neptune T, and sesquiquadrate the Venus conjunct Uranus T = great success, wide acclaim, strong awareness of purpose, inner vision.
He is experiencing his Chiron return, square to transiting Mars = the wounding/healing experience, determined, assertive support by others.
The fact that Mr. Morrison has Saturn conjunct the Moon Node axis in his natal chart means that during his life he has had time to understand and work with it. The transiting Saturn conjunct Moon Nodes is square to his natal Saturn conjunct Moon Nodes. The transiting pattern activates Mars (= ability to work physically hard in a 'down to earth' way to achieve one's aims, with some delays possible).
Also of interest is Mr. Morrison's natal Venus, which is sesquiquadrate his natal Uranus conjunct Pluto (= transforming love, musical interests). As mentioned Venus was conjunct Uranus on Election Day.
I have found that when important birth combinations are repeated in the heavens later in life, people are reminded of us, or we come to mind -- even if the pattern does not form a mathematical aspect to its birth combination.
SCOTT MORRISON – AUSTRALIAN GEODETIC CHART & ELECTION DAY (BI-DIAL FIG. 3)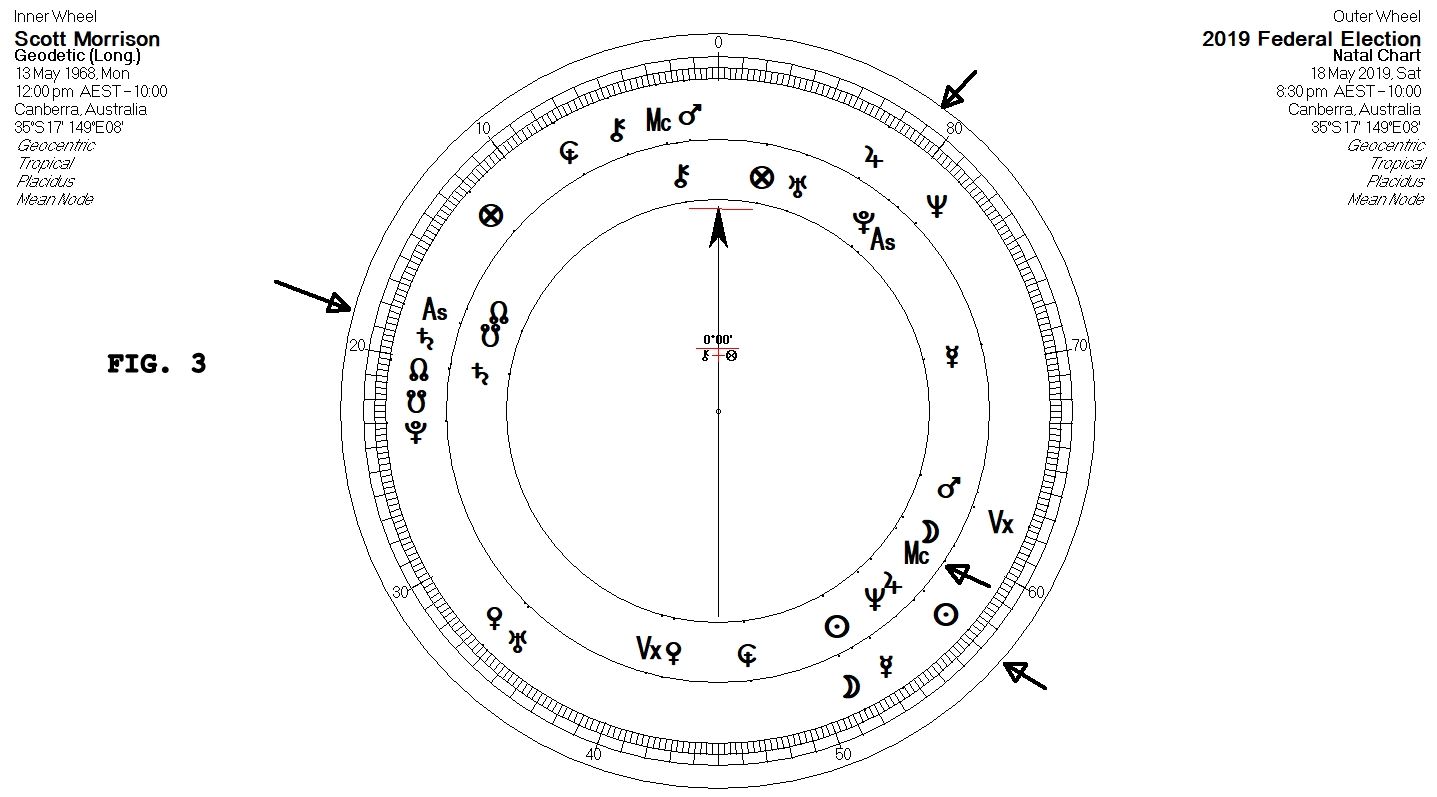 For the Cosmobiologist the success and challenging patterns mentioned above are immediately apparent on the 90-degree bi-dial. "The Combination of Stellar Influences" by the great Cosmobiologist Reinhold Ebertin helps provide an excellent picture.
Geo. Pluto Ascendant N = Venus Uranus T (= Universal love, high excitability) = Jupiter/Neptune T (= a gamble, far reaching speculation, sharing great hopes).
Geo Midheaven N= Moon/Jupiter Neptune N (= popularity, a kind hearted, social or religious person, sensitive forebodings) = Sun/Mars N = Sun T (= determination, power of attainment, overcoming difficulties).
SCOTT MORRISON – SECONDARY PROGRESSIONS ELECTION DAY
Mr. Morrison's Secondary Progressed Lunation phase is an applying waxing square with SP Sun in Cancer and SP Moon in Libra = determination, force, the self-made person, accelerated progress.
Natal Uranus/Pluto midpoint = SP Mercury/Pluto midpoint = Jupiter T = the attainment of great success, expansive changes, many ideas.
Natal Mars square SP Jupiter = success in one's profession, births, new ventures.
SCOTT MORRISON NATAL, SOLAR ARC DIRECTIONS & TRANSITS ELECTION DAY (TRI-DIAL FIG. 4 )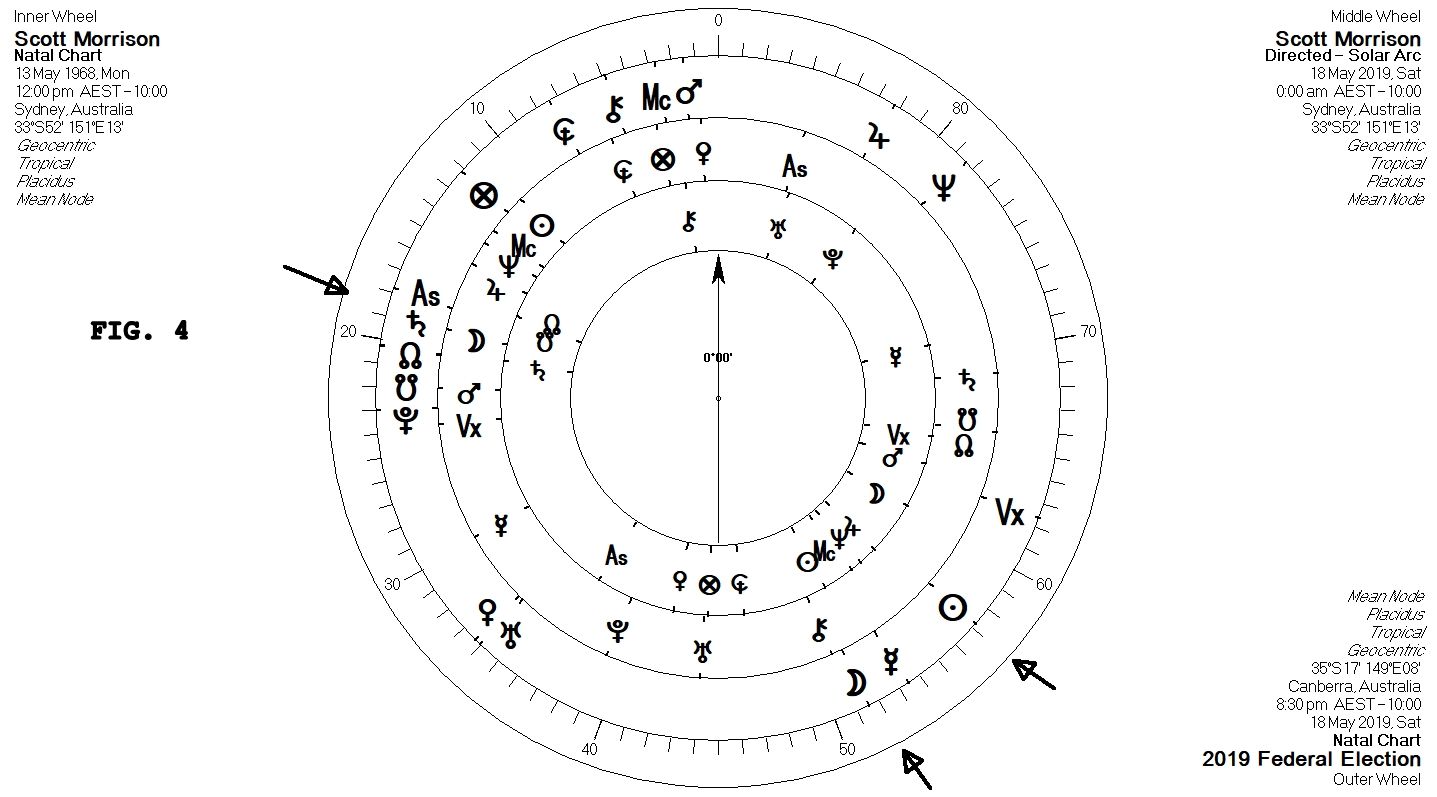 The tri-dial incorporates the natal chart (inner dial) for a noon birth time and place, solar arc directions for election day (middle wheel) and transits for 8.30 pm election day (outer dial).
Mr. Morrison's natal Sun opposition Neptune forms a T-square to natal Jupiter and on Election Day this pattern was activated by his SA Sun and transiting Sun, Moon and Mercury, adding a positive influence.
Karmic natal Saturn conjunct Moon Nodes was activated by transiting Saturn forming a waning square to the natal position (reaping the rewards of hard work). The SA Mars/Jupiter (success) axis supported a positive outcome.
BILL SHORTEN – AUSTRALIAN GEODETIC CHART & ELECTION DAY (TRADITIONAL BI-WHEEL FIG. 5)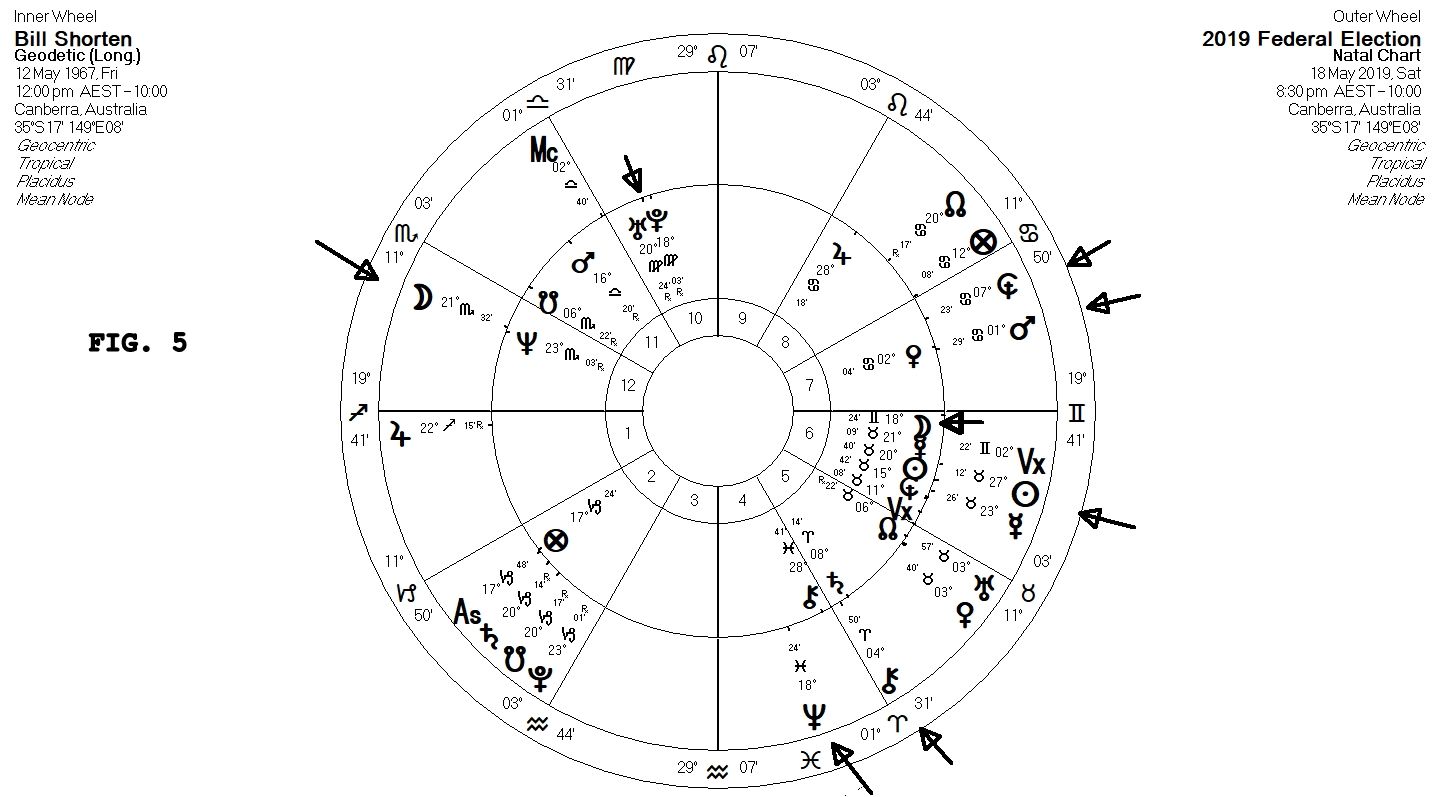 Mr. Shorten's Geodetic chart was discussed in my earlier 2017 article mentioned above, with comments summarized below :-
"Mr. Shorten's Sun and Mercury is in Taurus in Australia's Geo 6th house of civil service, the military, employment and the working class. Both the Sun and Mercury are opposition confusing Neptune in 12th house of karma and secret enemies, which explains why he has attracted trust issues, but also suggests a strong interest in education and the health services available to the nation.
Interestingly the Mercury opposition Neptune pattern is present in Australia's natal chart, possibly indicating the huge number of foreign-born people attracted to Australia.
None of Mr. Shorten's planets are conjunct the Australian Geo Midheaven and as mentioned above his natal Pluto is nearly 19 degrees away from this point, which means seizing power is much harder for him. However his natal Moon falls on the Descendant of the Geo chart, indicating that he can trigger the emotions of a great many people. He is liable to act on his ideals and instincts and face the consequences later".
The transiting Moon for the Election Night applying full Moon is conjunct his natal Neptune and opposition his natal Sun and Mercury, with transiting Mercury activating the pattern. This is a highly sensitive, emotional combination which suggests possible +disappointment.
The Australian Geo Ascendant opposition Mr. Shorten's natal Moon forms a T-square to Uranus and Pluto N in the 10th house. Transiting Neptune in 4th house completes a Grand Cross of deep, unsettling emotion and change. Transiting Jupiter activating this pattern brought Mr. Shorten to this point on election night, but it was not enough to counteract the more difficult patterns existing for him on the day.
The deep love and emotion shown by Labor supporters is expressed with Venus N in 7th conjunct Mars T, Venus conjunct Uranus T sesquiquadrate Uranus Pluto N, semi-square Moon N -- this second pattern could suggest the potential for emotional rebellion by those around him.
Transiting Hades was square to Mr. Shorten's natal Saturn, which in turn was conjunct transiting Chiron (4 degrees orb), highlighting the limitations and unexpected loss he experienced.
BILL SHORTEN – AUSTRALIAN GEODETIC CHART & ELECTION DAY (BI-DIAL FIG. 6)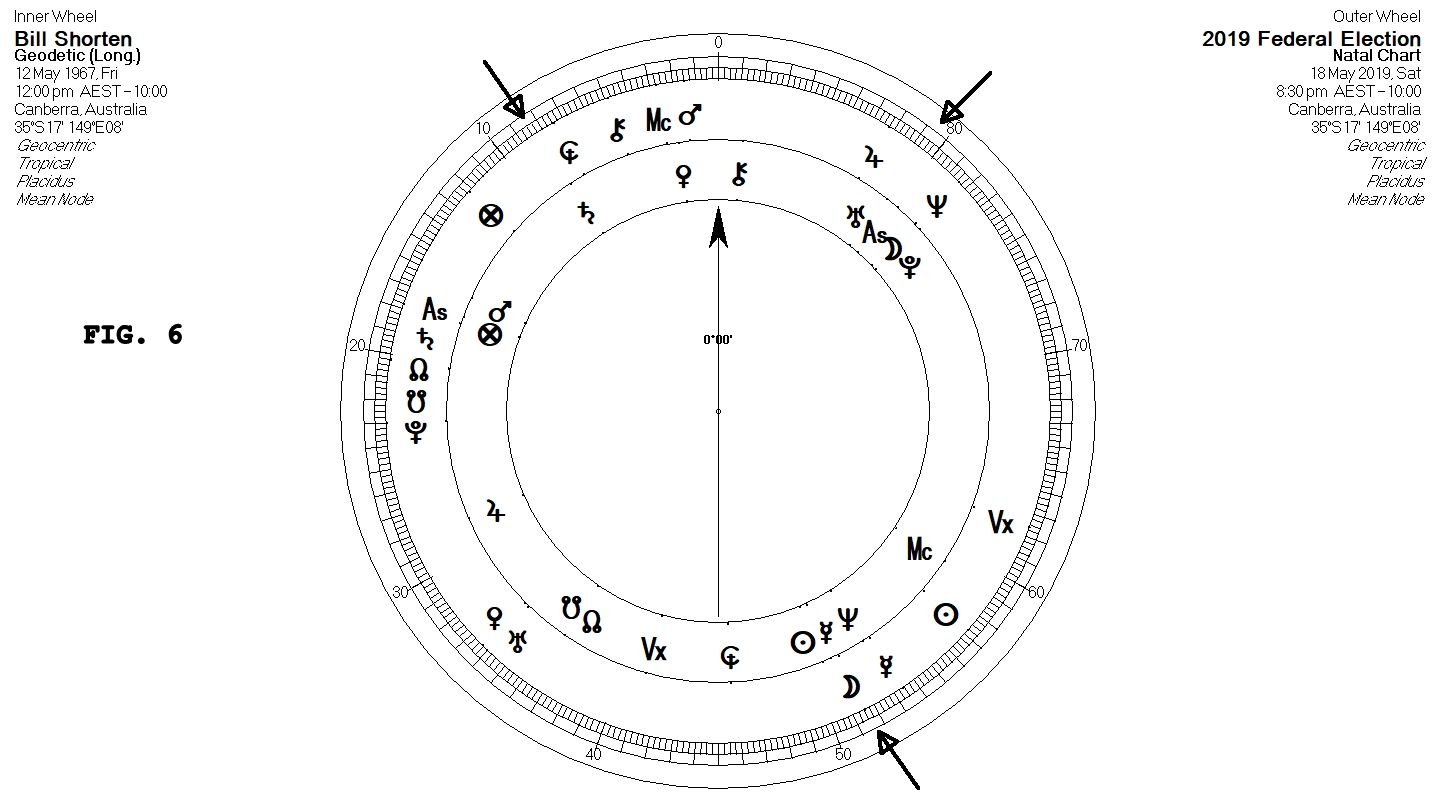 Mr. Shorten's outstanding patterns are ..
Natal Moon, Uranus, Pluto and Geo Ascendant = transiting Venus, Uranus and Neptune =inner illumination, great public interest, powerful unsettling emotions, changing trends and dissolving plans.
Plus Natal Sun, Mercury, Neptune, Saturn = transiting Moon, Mercury and Hades = loss of vitality, depression and undermining circumstances.
BILL SHORTEN – SECONDARY PROGRESSIONS ELECTION DAY
The Secondary Progressed Lunation phase was a waning sextile between SP Sun in Cancer and SP Moon in Taurus = second chance, an opportunity. His SP Neptune sesquiquadrate natal Saturn, opposition natal Sun and Mercury was activated by the transiting applying full moon = loss of confidence, feeling undermined.
His SP Moon Nodes was conjunct the Venus Uranus T conjunction = sudden karmic changes in relationships.
His SP Mars was square to transiting Pluto = extraordinary hard work, ambition, confidence, anger.
SP Sun was square to the midpoint between natal and SP Saturn = a difficult struggle with karma, retirement, delays.
BILL SHORTEN NATAL, SOLAR ARC DIRECTIONS & TRANSITS ELECTION DAY (TRI DIAL FIG. 7 )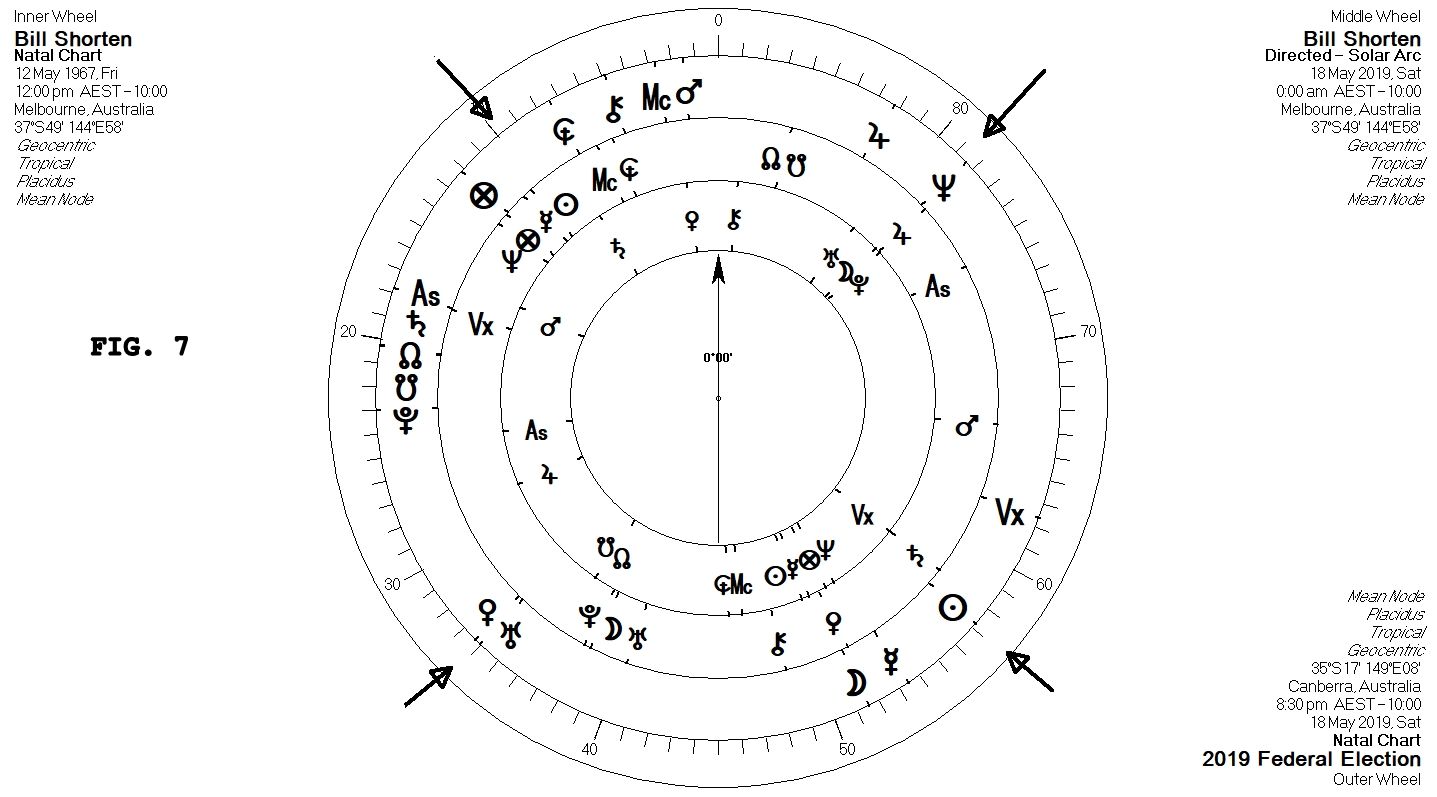 Once again the tri-dial shows us the natal chart (inner dial) for a noon birth time and place, solar arc directions for election day (middle wheel) and transits for 8.30 pm election day. The outstanding patterns are the emotional power and opportunity which put the Australian leadership within Mr. Shorten's grasp (Pluto Moon Uranus N = Jupiter SA = Neptune, Venus Uranus T).
But the most difficult combination was the Saturn Neptune N = Venus SA = Moon Mercury T plus the Saturn Neptune SA = Sun T = undermining circumstances, health issues.
IN SUMMARY
Both contenders are born under the Sun sign of Taurus, a year and one day apart. Therefore it is not surprising to discover that Australia's Secondary Progressed chart currently has the Sun conjunct Venus in Taurus.
Based on noon birth calculations, Mr. Morrison is a natal full moon type (full moon or soon after) and Mr. Shorten a natal new moon type (new moon or soon after and in his case a few days after a partial solar eclipse). The applying full moon on Election Day would be a more comfortable fit for Mr. Morrison – a full mooner himself.
Both men have the Sun opposition Neptune placed in the 6th/12th house axis of the Australian Geodetic chart, however in Mr. Morrison's chart this pattern is in a 'T' square to his Jupiter conjunct the Geo Midheaven, adding a powerful positivity and potential for a lucky promotion.
Mr. Shorten's Sun opposition Neptune has strong, active aspects to Saturn, highlighting healing potential and health issues, education, the Services and underprivileged.
The election was held after both birthdays, which is more favorable than immediately prior to a birthday.
At the end of the day the people will put their own families and survival first, making Mr. Morrison's financial security theme more popular than Mr. Shorten's idealistic theme, which relied on the population sharing his ideals.
Without doubt the timing of the election favoured Mr. Morrison. For many weeks the current Saturn/ Moon Nodes pattern had lessened the optimism of the population and Mr. Morrison's multiple Jupiter patterns generated confidence and optimism for more people than widely predicted. Although the pronounced Saturn energies in Mr. Shorten's chart generated themes of credibility and responsibility, even his own helpful Jupiter patterns were not enough to convince enough people to vote for his leadership as Prime Minister.
Pamela Rowe ©
May 23, 2019.
References:
'The Combination of Stellar Influences' by Reinhold Ebertin
"The Geodetic World Map" by Chris McRae, PMAFA
Charts 'Solar Fire'
N = Natal T = Transit SP = Secondary Progressions
SA = Solar Arc Directions
Mr. Scott Morrison, 13 May 1968, Sydney NSW (Wikipedia)
Mr. Bill Shorten, 12 May 1967, Melbourne, Victoria (Wikipedia)