HARRY & MEGHAN - A LOVE STORY
Astrological Insight on the Fairytale Wedding
By Pamela Rowe, LPMAFA, FMFAA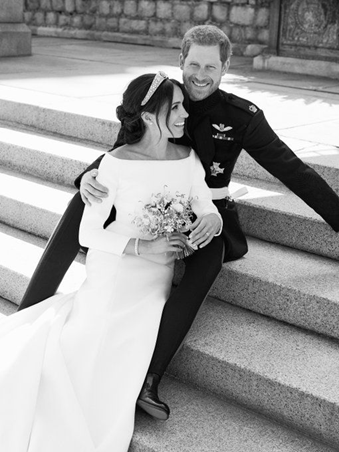 On Saturday May 19, 2018 at St.George's Chapel, Windsor Castle England, Prince Henry of England, the youngest son of Prince Charles and Princess Diana, married American actress Rachel Meghan Markle. The wedding ceremony was timed to commence at 12 noon BST and the declaration of 'Husband and Wife' was at 12:40 pm.
We will view some of the astrological connections between this modern, interesting couple.
HARRY (Born September 15, 1984, 4:20 pm BST, London (Fig. 1) (AA Rating)
When Prince Henry was born and I first viewed his horoscope I felt he would be a late bloomer. He has Capricorn on the Ascendant and intercepted Aquarius in the first house, meaning the whole sign of Aquarius was a part of his personality and environment – quite a mixture of life lessons for a young man to work through during his early years.
Saturn the ruler of the Ascendant is culminating, indicating that he would make an important mark in the world. Saturn however is semi-square Neptune in 12th, describing his own insecurities but also his concern for the difficulties of those less fortunate than himself. The Sun, Mercury and Part of Fortune in Virgo, plus Venus in Libra in 8th are also indications of how very much of Harry's true self was buried away in his subconscious.
But Harry was bound to break new ground through original thinking and humanitarian pursuits (Mercury semi-square Venus, trine Jupiter and square Uranus and Chiron). As Mercury is the planet of the mind and Harry's combination could sometimes feel like 'pain in a pressure cooker', but it also shows an impish sense of humour.
Many would say Harry has a bucket shaped chart with a Moon handle in the 4th house of the mother and family hereditary. This describes the deep emotional link he shared with Princess Diana and the powerful motivation she installed in him. But emotions can also be buried in 4th. The Northern Moon Nodes, Hades and Chiron connection in Gemini suggest the broken home and tragic fate of the mother. The Moon Nodes and Hades are in the 4th house and Chiron just into the 5th house = healing through love, the father and Harry's own children.
Although the Sun is trine the Moon, a recognised positive outlet, it has taken Harry time and experience to develop its most positive potential.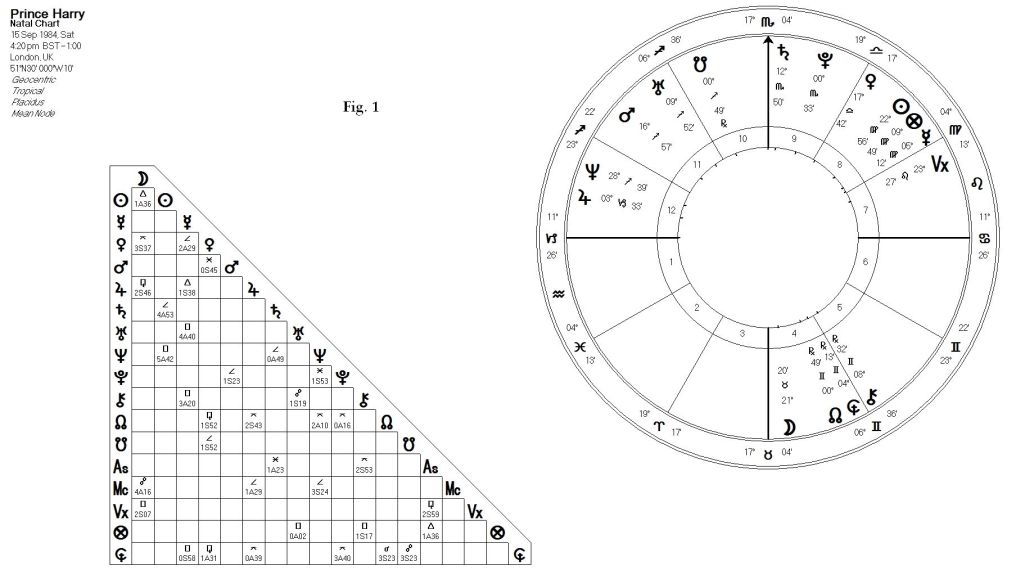 MEGHAN (Born August 4, 1981, 4:46 am PDT, Canoga Park, California USA (Fig 2) (AA Rating)
Meghan has an interesting heritage with a white father and a coloured mother. Her parents divorced when she was at primary school, so she also struggled with the emotional implications of a broken home. She has the Sun, Mercury and Northern Moon Nodes rising in Leo in 1st house with Cancer on the Ascendant, describing a strong personality, a 'person of the people' and a great survivor.
Mars in Cancer in 12th house is associated with past lives, the subconscious, health issues and secret enemies, which has already shown itself through the actions of her own family (Cancer) and possibly through females in general, as the girl who married the world's most eligible bachelor.
An outstanding configuration is Meghan's Moon (ruler of the Ascendant and natal chart) in Libra, conjunct Saturn and Jupiter in the 3rd. house (= mixed emotions and communications, especially associated with siblings, wisdom acquired with age). It is significant that this triple conjunction is sesquiquadrate to Chiron in 11th and Chiron forms a Yod to Neptune and Pluto = difficulty navigating relationships and ambitions, carry-over childhood pain. But Bingo! .. Meghan's Chiron is conjunct Harry's vulnerable Moon in Taurus and trine his Sun in Virgo = shared understanding of pain, healing pain together.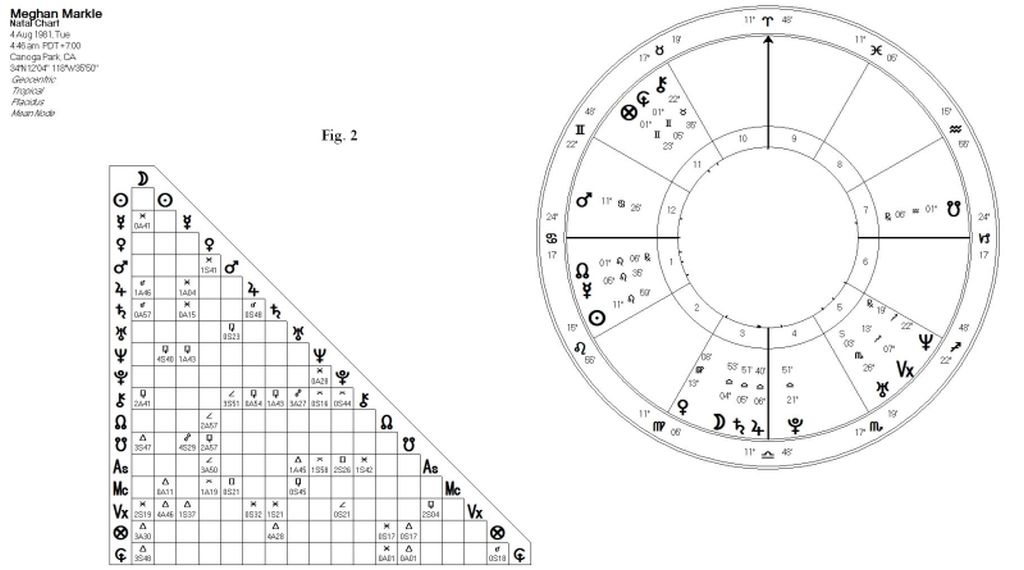 Harry's Chiron is also trine to Meghan's Moon, Jupiter and Saturn. As a pair the couple plan to expand their healing mission to include urgent humanitarian ventures, confirming the old adage 'Whilst healing others we heal ourselves'.
Harry's Jupiter is square Meghan's Moon, Jupiter and Saturn, helping to make possible her ideals and plans.
Harry's Mars, Saturn, Uranus, Neptune, Ascendant and Midheaven aspect Meghan's rising Leo Sun, strengthening her star power and increasing her potential as a force to be reckoned with. In particular his Saturn square her Sun will provide security in stabilizing upsets or aggressions she may experience from others or within herself.
Meghan's Venus in Virgo in 3rd house (creative communication) is in the same sign as Harry's Virgo Sun. Her Venus aspects his Mars, Saturn, Uranus, Pluto and Ascendant = intense physical attraction, an awakening for both partners, especially Harry.
Classically the 7th house is said to describe the marriage partner. Harry's 7th house cusp is 11deg 26min Cancer with the whole sign of Leo intercepted, or contained within 7th. His Vertex (destiny encounters) is in Leo in 7th and Meghan's Mars is exactly conjunct his Descendant at 11deg. 26min Cancer (= energy and sparks).
Meghan's 7th house cusp is Capricorn, the sign of Harry's Ascendant – a classic link, describing a grounding, conservative partner.
Fig. 3 (SYNASTRY GRID)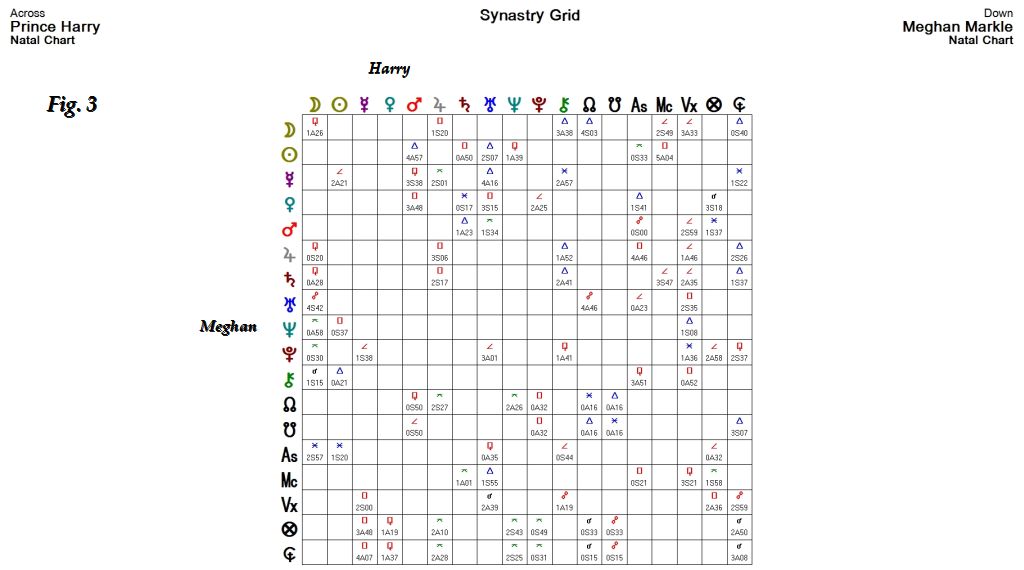 (Fig.4 BI-WHEEL HARRY & MEGHAN)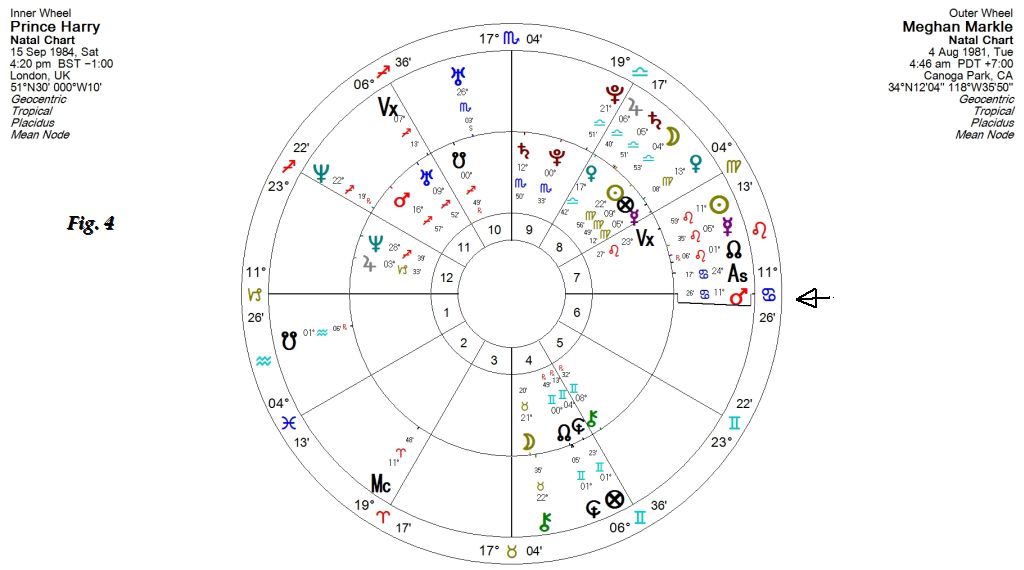 THE MIDPOINTS
Each of our natal horoscopes has a list of midpoints between all the planets and points.
In this case I will view the Sun/Moon (marriage axis) midpoint of each partner.
Harry's Sun/Moon midpoint (22deg. 08min Cancer) is conjunct Meghan's Ascendant (24deg. 17min. Cancer), highlighting the potential for a marriage partnership.
Meghan's Sun/Moon midpoint (8deg. 26min Virgo) is 3 degrees from Harry's Mercury (5deg. 12min Virgo) = a thinking, communicative partnership.
THE COMPOSITE CHART is a combination of the two natal charts to create a single chart, which is said to represent the relationship itself. There is the closest and opposition midpoint of each pair of planets within the 360 degree zodiac. The closest midpoint is correct and calculated between each of the planet positions in question in the two natal charts. The Composite chart is then located for where the relationship takes place. An interesting concept, but even more so when it is activated by current astrological patterns.
The Composite Sun.. For example Harry's natal Sun is at 22deg. 56min Virgo and Meghan's natal Sun is at 11deg.59min Leo. The closest midpoint between the two and thus the Composite Sun position is 2deg. 28min Virgo, and so on for all the planets.
In addition to Harry and Meghan's Composite Sun at 2deg.28min Virgo, the composite Moon is at 28deg. 07min Cancer. Calculated for London, England the Ascendant is 1 deg. 46min Gemini and flanked by Chiron conjunct Hades, which in turn is opposition Uranus in the 7th house. This suggests they will be unafraid of dangerous environments where people are suffering, in order to fulfil their desire to make a difference; but as we know there are always stringent security arrangements in place.
I have found the Composite chart provides an additional insight into the working areas in the shared life and sometimes highlights astrological patterns which appear in the charts of the children and even grandchildren.
DECLARATION HUSBAND & WIFE (May 19, 2018 12:40 pm BST Windsor, England
It is significant that 2deg. 55min Virgo was rising on the Ascendant when Harry and Meghan were declared 'Husband and Wife', as it is conjunct their Composite Sun (2deg. 28min Virgo).
The Declaration Moon was at 23dec. 04min Cancer – 5 degrees from the 28deg. 08min Composite Moon and a degree from Meghan's 24deg 17min Cancer natal Ascendant.
The Declaration Jupiter at 17deg. 02min Scorpio was 3 degrees from the Composite Jupiter (20deg. 07min Scorpio).
The Declaration Venus at 29deg. 53min Gemini was conjunct the Composite Moon Node axis (0deg. 58 Cancer)
The Declaration Sun at 28deg. 25min Taurus was applying to the Composite Ascendant, (1 deg 45min Gemini), Chiron and Hades and opposition composite Uranus.
The Declaration Mars (1deg 15min Aquarius) was culminating and conjunct the Composite Midheaven (29deg 26min Capricorn).
(THE COMPOSITE CHART & DECLARATION Fig. 5)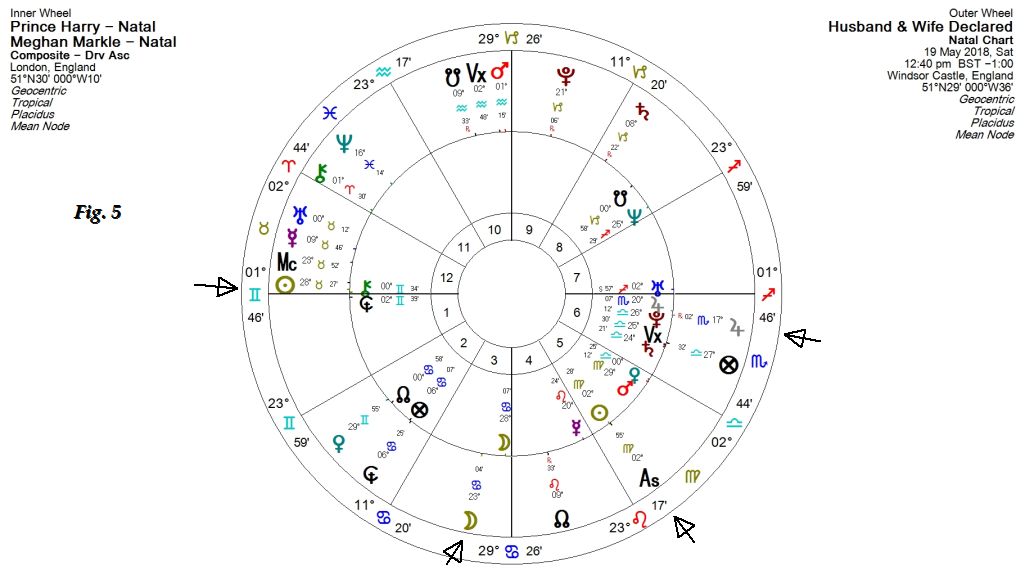 COMPATIBILITY & FERTILITY
These are significant moral issues for the astrologer. Over the years I have found it necessary to reassure unhappy clients who have been given bad news from astrologers who have limited experience dealing with large numbers of people and their actual life choices.
One example is when two people are told their relationship will not last because it doesn't fit into the classic astrological categories. I have personally found that the differences between people are the sparks which create lifelong stimulation and learning – excitement rather than boredom -- or alternatively grounding for one of the partners through the other's down-to-earth, stabilizing traits.
The astrologer's job is to draw attention to the positive, easy flowing links between the two charts and also discuss alternative ways the difficult areas can be expressed – not to influence the choices made by the couple.
Another astrological faux pas is the prediction of fertility or lack of it. This is an area which should be left to the medical experts. Astrologers – remember when to refer! Over the years I have seen many clients with astrologically difficult childbirth patterns who have gone on to deliver perfectly healthy babies, so the astrological indicators are not always reliable.
In Harry and Meghan's Composite chart Venus and Mars are conjunction in the 5th house of love and children, so this is a passionate relationship with a strong desire for children, including providing additional personal love for disadvantaged children.
In Meghan's natal chart fertile Scorpio is on her 5th house cusp, although Mars the Scorpio co-ruler in Cancer in her 12th house suggests the possibility of some surgical assistance for Meghan during a delivery, but of course this not a foregone conclusion. The fact that Harry has Gemini, the sign of the twins, over both cusps of his 5th house of children is an additional thought on which we could ponder.
THE SECONDARY PROGRESSIONS
The natal chart is calculated for our moment and place of birth and always remains our original blueprint for future reference. The Secondary Progressed chart is the unfolding of our potential, changing preferences, the opportunities we will have, plus the people we will meet and learn from.
The Secondary Progressed chart formula involves one day for every year of life from our birth date and year. The calculations are quite complicated but simply explained, Harry's secondary progressed chart is calculated for 33 days after his birth in 1984. Megan's SP chart is calculated for 36 days after her birth in 1981.
The Secondary Progressed chart does not supersede the birth chart, but can be compared with it and is sensitive to transits (current planetary patterns). The SP chart demonstrates how important timing is in our lives. Each of us has the intuitive skill to know when the season of change is upon us and astrology provides more detail.
The chosen life path will therefore need to weather inner and outer change. Surviving the down times will depend on the stuff we are made of, our environment, upbringing and past experiences.
HARRY & MEGHAN'S TRI-WHEELS (Fig.6 and Fig. 7) show their Natal charts (centre), Secondary Progressed charts to the Wedding Day (middle wheel) and Transits for the Declaration of 'Husband and Wife' (outside wheel). The following are just a few of the many relevant links …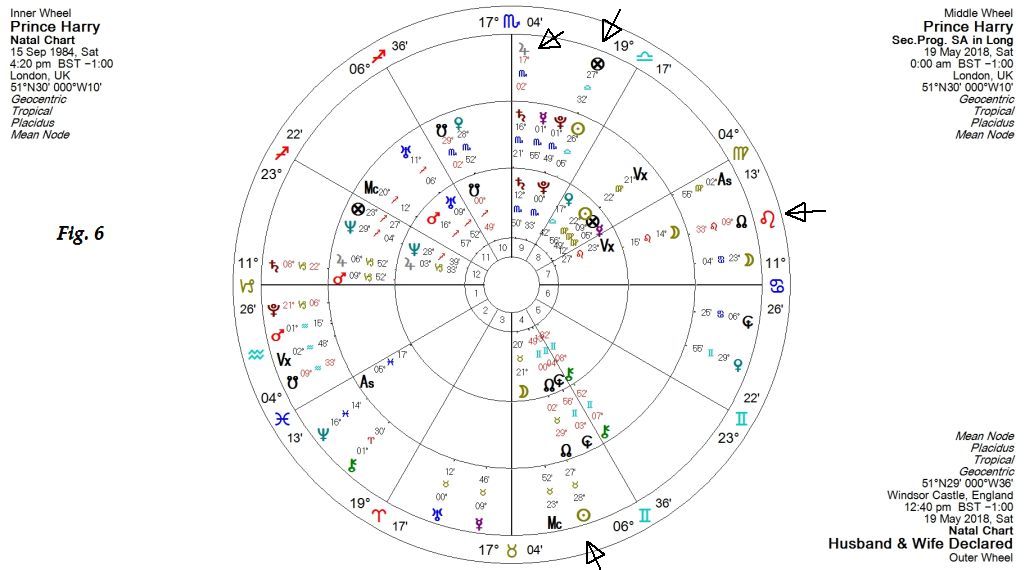 Harry's SP SUN (26deg. 05min Libra) is conjunct Meghan's SP VENUS (26deg. 52min Libra) = beauty and expansive love
Harry's SP MOON (14deg. 15min Leo) is conjunct Meghan's natal SUN (11deg. 59 min Leo) = the marriage partnership
Harry's natal SUN (22deg. 56min Virgo) is in wide conjunction to Meghan's SP SUN (17deg. 28min Virgo) = increasing compatibility, growing together. Meghan's SP Sun will be conjunct Harry's natal Sun in just over 5 years from now.
Composite Midheaven (29deg. 26min Capricorn) conjunct Meghan's SP MOON (29deg 19min Capricorn = changing direction and career path for Megthan, worldly honour.
Harry's natal MIDHEAVEN (17deg 04min Scorpio) was being transited by JUPITER (17deg. 02min Scorpio). Meghan's SP MIDHEAVEN is opposite at 17deg. 16min Taurus = expansive, fortunate opportunity for the couple and their role in the world.
In summary, this is a Destiny match with an abundance of love and passion, challenges and risks – A partnership with rare potential for the greater good.
Pamela Rowe, LPMAFA, FMFAA ©
May 23, 2018.
References:
'A to Z Horoscope Maker & Delineator' (1910) by Llewellyn George
'The Combination of Stellar Influences' by Reinhold Ebertin
Photo Harry & Meghan .. The New Daily
Sunday Herald Sun, Melbourne Australia
Chart printouts 'Solar Fire'