COVID-19 THE 2020 PANDEMIC
An Astrological Bird's Eye View
By Pamela Rowe, LPMAFA, FMFAA
© COVID-19 the Corona Virus, has taken the world by storm. It has been said that "This virus has a 96% similarity to a bat coronavirus so it is widely suspected to originate from bats" (Wikipedia).
It was identified in December 2019 in Wuhan China as a mysterious pneumonia outbreak.
On December 21, 2019 the World Health Organization (WHO) declared the outbreak traced to a novel strain of Coronavirus and named it "2019nCOV".
As we know, it is not the first time a crossover of a health condition from animals to humans has occurred. There was the Mad Cow Disease in 1986, Bird Flu and the SARS epidemic in 2003 to name a few, with SARS having many similarities to COVID-19 in 2020. But none of the recent epidemics were as widespread and dangerous to so many of the world's people.
Astrologers viewed 2020 with some trepidation. The conjunction of Saturn and Pluto at 22deg. 47min Capricorn on January 13 was immediately preceded by the Lunar Eclipse at 20deg. Cancer/Capricorn on January 11 – a heavy start to the year. Although the combination suggested health implications, it would have been difficult to predict the world wide pandemic to follow.
The study of astrology can describe an accurate tendency for certain mundane and personal conditions in our lives but can fall short when pinpointing the intensity. Let us examine a few areas of intensity for 2020 to try to establish why such a tragic outcome occurred.
PLANETARY NODES
Transiting Saturn and Pluto in Capricorn were in the same sign as their Heliocentric South Planetary Nodes in Capricorn (Saturn South Nodes 23deg. 50min Capricorn and Pluto South Nodes 20deg. 34min Capricorn on January 13, 2020, the day of the Saturn/Pluto conjunction). Both planetary nodes were therefore close to their transiting positions at the time of the outbreak of a mysterious lung disease on November 17, 2019 in Wuhan China. The World Health Organization declared the Corona virus a Pandemic on March 11, 2020. Transiting Saturn moved into Aquarius on March 22 for a short stay (= social isolating), but will retrograde back into Capricorn on July 2, 2020.
Because these Heliocentric Nodes only move at the slow rate of 1 degee per century, we need to wait until the transiting Geocentric Saturn and Pluto move on past them to truly evaluate the outcome of this extraordinary world event.
Saturn = Pluto = Hard work, sacrifice, great losses, death, spiritual lessons.
The North Node is generally considered more favourable than the South Node, which is often depicted as an area of fear, free will in the guise of habit, legacy of the past, former lives and serious lessons to be learnt. The North Node represents 'intake', the South Node represents 'release'... and we are dealing with the South Node. The Saturn Pluto combination suggests an emphasis on security and hardships but also determination and exploration.
Astrologers usually add the Moon Nodes to their charts, but rarely include the planetary nodes.
HELIOCENTRIC CHARTS
We usually use Geocentric charts (as viewed from the Earth), but Heliocentric charts (as viewed from the Sun) are said to provide information on world catastrophes and extreme conditions which affect the earth and its people.
So it would be appropriate to view the Heliocentric charts for relevant events. I chose 3 dates and will examine the appearance of a mysterious lung disease in Wuhan China (Figs. 1(a) and (b), Australia closing its borders (Figs. 2 (a) and (b) and Corona declared a Pandemic by the World Health Organization (Figs. 3 (a) and (b).
In Helio charts the symbol for the Earth is a circle with a vertical cross inside. The Sun is not included, neither is the Moon, because as viewed from the Sun the Moon would always appear to be conjunct the Earth. The Ascendant, Midheaven and house cusps appear on the chart form, but are not considered.
The "Larousse Encyclopedia of Astrology" defines the Heliocentric Planetary Nodes as "The points where two planetary orbits intersect, considered from the viewpoint of the sun. The heliocentric north node of a planet is always opposite its south node. Heliocentric planetary nodes move forward through the zodiac at an extremely slow rate – about one degree per century".
CRITICAL DEGREES
It is said that the Critical Degrees were derived from the Lunar Mansions in Vedic Astrology. They are as follows:-
0deg, 13deg. and 26deg. Cardinal Signs (Aries, Cancer, Libra, Capricorn)
9deg and 21 deg. Fixed Signs (Taurus, Leo, Scorpio, Aquarius)
4deg. and 17deg. Mutable Signs (Gemini, Virgo, Sagittarius, Pisces)
"These sensitive and critical degrees were given considerable importance by the ancients. A planet's strength or power in the horoscope is believed to be increased when in any of these degrees, or within an orb of 3 degrees of the critical degree." from "A to Z Horoscope Maker and Delineator" by Llewellyn George, first published in 1910.
PROGRESS OF COV-19
November 17, 2019 (Mysterious lung disease detected in Wuhan) Saturn was at 16deg. 41min. Capricorn and Pluto at 21deg. 07min Capricorn.
January 7, 2020 in Wuhan (Cause of new disease isolated) Saturn was at 22deg. 07min Capricorn and Pluto at 22deg. 35min. Capricorn.
January 13, 2020 ..Conjunction of Saturn and Pluto at 22 deg. 46 mins. Capricorn, just over 3 degrees from the 26 deg. Cardinal critical degree.
January 25, 2020 (Australia's first Corona case) Saturn was at 24deg.14min Capricorn and Pluto at 23deg.11min Capricorn. Saturn had overtaken Pluto.
March 11, 2020 (WHO declared Pandemic) Saturn was at 29deg.08min Capricorn and Pluto at 24deg.30min. Capricorn
March 20, 2020 (Australia closes its borders) Saturn was at 29deg.52min Capricorn and Pluto at 24deg.40min Capricorn. Mars and Jupiter were conjunction at 22deg. 46 and 22deg. 48min. Capricorn respectively.
We can see that March 2020 was a crisis month. It would be interesting to see if anyone who caught the virus has any of their natal or progressed planetary positions close to these critical degrees. During the month the slower moving planets only move slightly from their Geocentric positions during the listed dates, however the fast moving planets Mercury, Venus and Mars can move many degrees in a short period.
Slow moving Neptune, one of the key signicators of health, is currently transiting its own sign of Pisces. On November 17, 2019 when the mysterious pneumonia was detected in Wuhan, Neptune was at 15deg. 57min Pisces, very close to the 17 deg. Mutable critical degree (Pisces). During March it moved over the critical degree and on March 20, 2020 when Australia closed its borders it had already moved past the critical degree to 18deg 26min Pisces.
GEOCENTRIC Vs HELIOCENTRIC CHARTS
1. MYSTERIOUS LUNG DISEASE APPEARS WUHAN, CHINA (November 17, 2019)
Geocentric Chart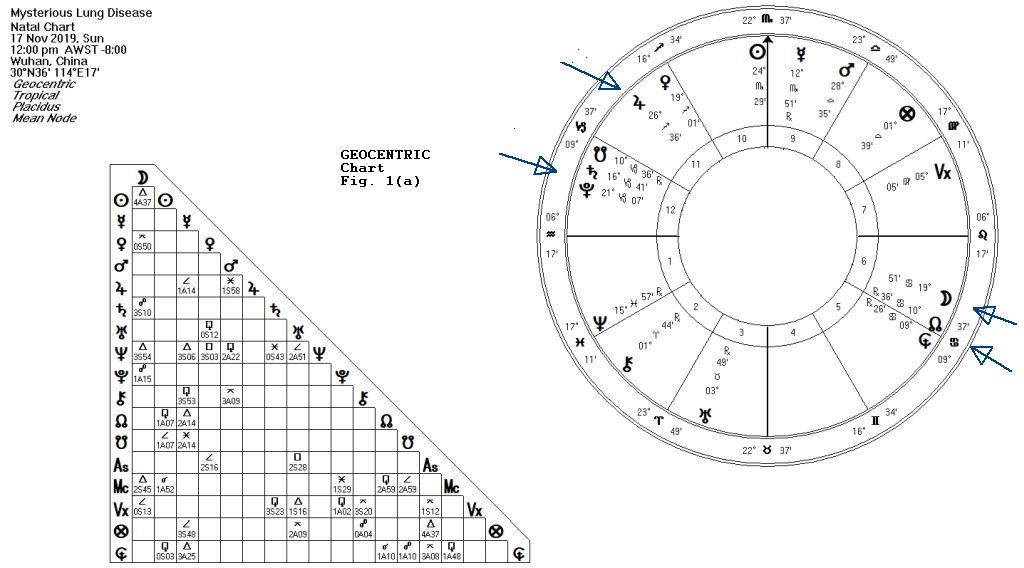 No time known, the so the chart was done for noon. The moon in Cancer opposes Saturn and Pluto during the day = fear for families. The Moon nodes axis conjoins Hades = emphasizes the great battle ahead for the masses. In his book "Rules for Planetary Pictures" Ludwig Rudolph describes Hades as "The destructive power of the past, which contains the seeds of death".
Jupiter sits on the galactic centre, heralding worldwide involvement.
Heliocentric Chart (FIG. 1(b)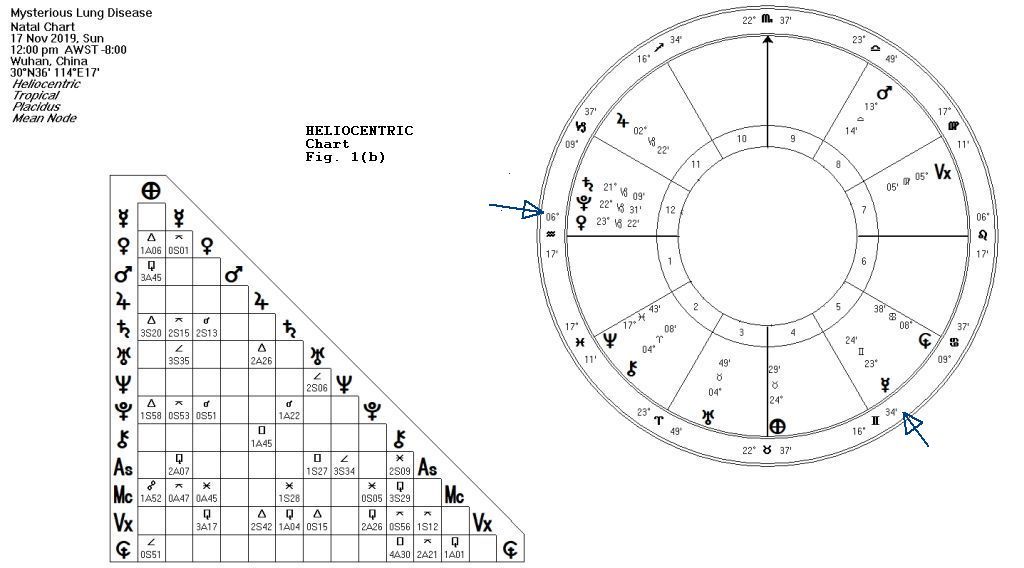 Venus joins Saturn Pluto for a triple conjunction quincunx Mercury. It describes the awkward communication required by China to advise the world of the bad news and brings descriptive health factors to the table – the glands, lungs, nervous system and an inner hardening.
2. PANDEMIC DECLARED BY WHO (March 11, 2020)
Geocentric Chart (FIG. 2(a)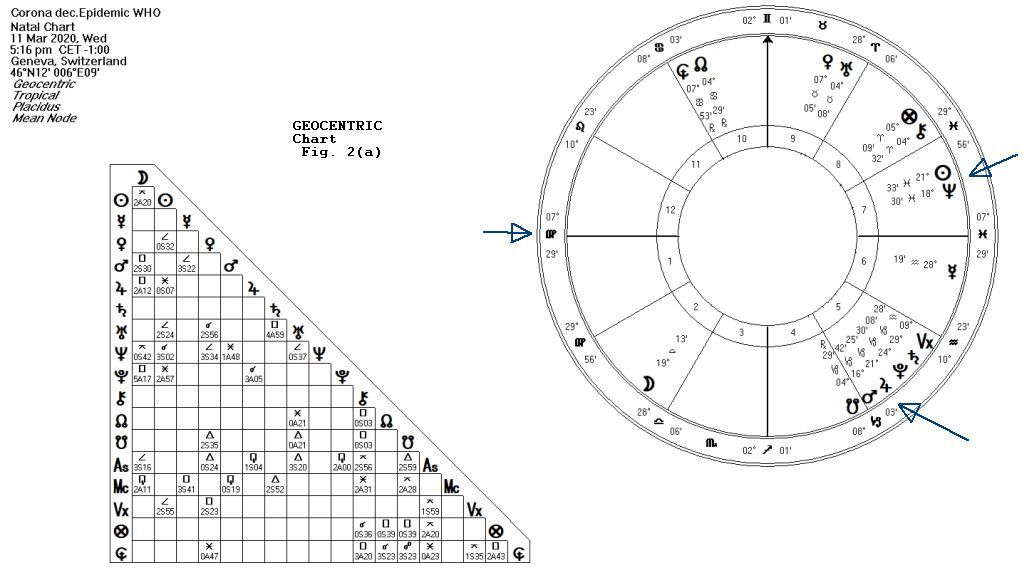 Sun conjunct Neptune expresses the sensitive reaction of the people to the news. As mentioned Neptune is conjunct a critical degree. Mars and Jupiter join Saturn and Pluto in Capricorn to describe the increasingly rapid spread of the virus, but also the hope of a cure.
At the time of the announcement the asteroid Hygeia was conjunct the Midheaven at 2deg. 01min Gemini, combined with Virgo rising on the Ascendant = the additional hygiene and detailed care required to improve the outcome. The fixed star Alcyone, considered unfavourable, was also conjunct the Midheaven.
Both the Ascendant and Midheaven are in the 1st Decanate (first 10 degrees) of their signs, in both cases the Mercury decanate, emphasizing the high impact of the news. Mercury health factors are the lungs and nervous system.
Heliocentric Chart (FIG.2(b)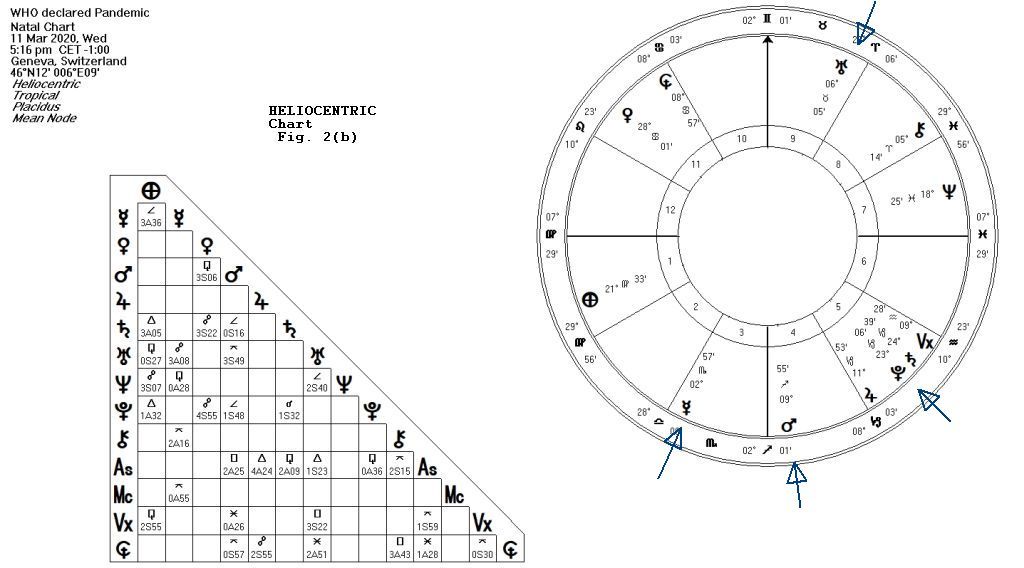 Mars semi-square Saturn and Pluto and quincunx Uranus highlights the sudden death of loved ones and Mercury opposition Uranus, sesquiquadrate Neptune and quincunx Chiron = fears, stress and panic.
3. AUSTRALIA CLOSES BORDERS (March 20, 2020)
Geocentric Chart (FIG. 3(a)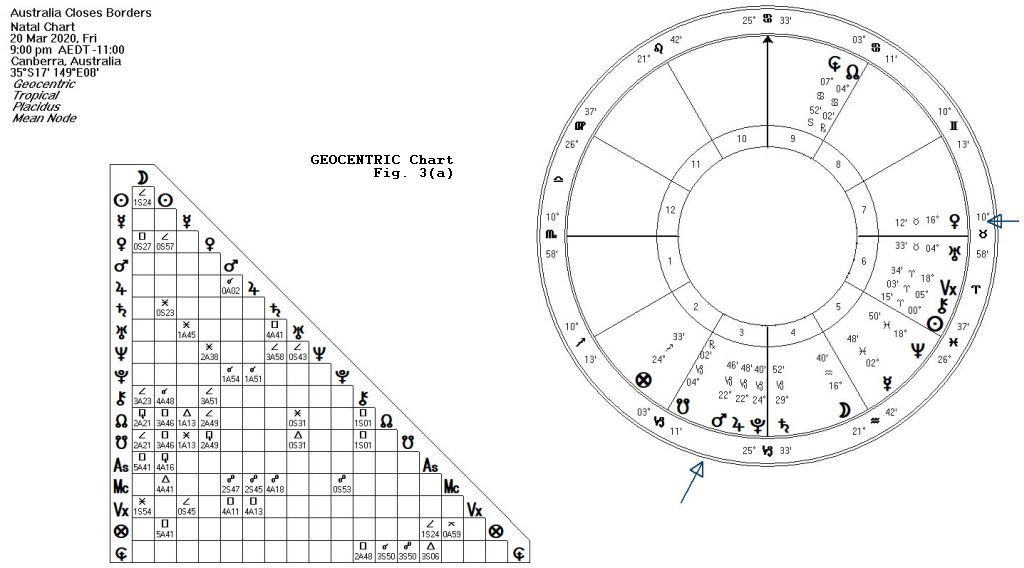 This chart aptly describe the mood of the time. All the physical planets between Mars in Capricorn and Venus in Taurus are contained within 4 zodiac signs, forming a 'bundle' shaped chart. Bundle charts emphasize focus and obsessional behaviour, which aptly describes the intense mood of the people as stockpiling and panic supermarket buying was still an ongoing problem.
Heliocentric Chart (FIG. 3(b)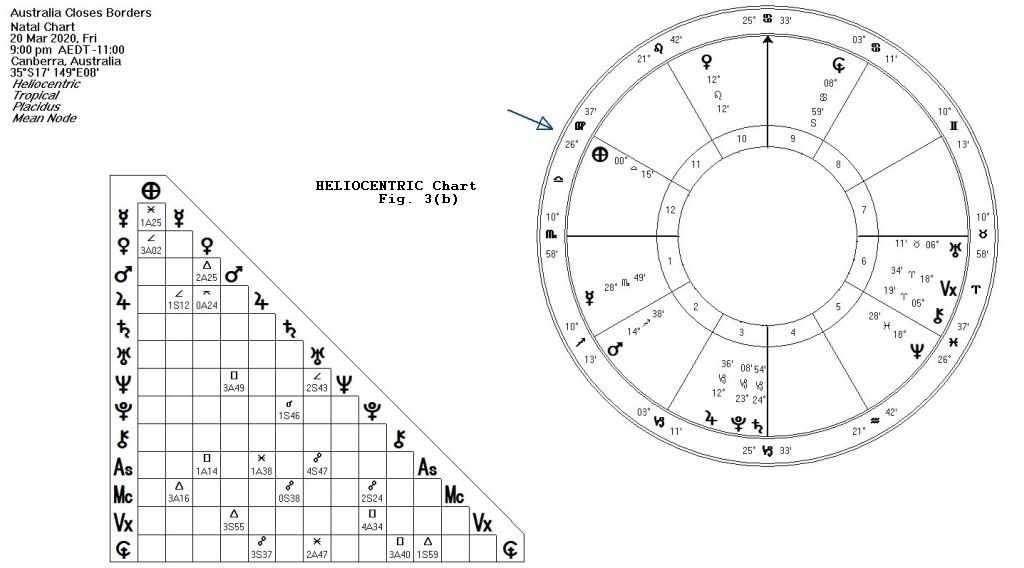 The Earth itself features in this chart at the 0 deg. Cardinal crisis point. Its sextile to Mercury in late Scorpio highlights difficult (Saturn conjunct Pluto) decisions and sacrifices. However Venus trine Mars expresses the love and caring which have been so dominant during this pandemic.
THE JUPITER/PLUTO CONJUNCTION ('Make or lose a million')
Jupiter/Pluto aspects are testy. Enormous financial gain is possible, but also great financial loss. However Jupiter (expansion, exaggeration, opportunity) combined with the power of Pluto (obsessions, force, fate and destiny, Higher Force and the immune system) can describe the rapid spread and out-of-control situations which arose around the world as a result of the 2020 Corona virus. It can also describe the enormous financial cost to Governments and citizens as we deal with enforced lockdowns and social distancing measures.
The Jupiter/Pluto conjunction occurred at 24deg. 52min Capricorn on April 5, 2020, but had been applying through the whole month of March.
Many of the world's most successful and financially richest people have this combination in their birth charts.
In my book 'The Health Zodiac' (1990) I researched past epidemics and found the 36 year cycle of the conjunctions of Saturn and Neptune to be present in early plagues, as well as periods when medical breakthroughs were made. Because of the success energies associated with Jupiter/Pluto, it did not seem to be the most accurate description of illness.
However I decided to examine the magnifying, 'out of control' potential of the Jupiter/Pluto aspect, which was present at the time when 2020's Corona virus manifested. Because of the many benefits associated with this combination, it seems likely that some new more positive possibilities are likely as a result of this time of great suffering. Benefits such as greater appreciation of country, home, family and loved ones plus new, improved ways of working, living and relating to others are already obvious.
Dana Gerhardt's article "2020's Mind-Blowing Jupiter/Pluto Conjunction: Shadow & Light" highlights the importance of this conjunction.
A BIRD'S EYE VIEW OF SOME PAST PLAGUES
1665-1666 – Great Plague of London culminating in Great Fire of London – Saturn conjunct Neptune in Pisces (Jupiter square Pluto). Fire raged out of control for 5 days.
1882 – Hong Kong plague spread by ships from Hong Kong around the world. 10 million people died between 1894 and 1914.
1918 – Worldwide Influenza Epidemic killed millions. Saturn conjunct Neptune in Leo. (Jupiter conjunct Pluto in Cancer)
1953 – Polio epidemic –Saturn conjunct Neptune in 22 to 23 deg. Libra. In 1954 Dr.Salk's vaccine was mass tested and in general use by 1955. Jupiter in Taurus was square to Pluto in Leo in early 1953.
1987 – Aides epidemic – Saturn conjunct Neptune in Capricorn. Peaked in 1989. (Jupiter in Aries quincunx to Pluto in Scorpio).
COUNTRIES WORST HIT BY COVID-19
There is plenty of scope to research the horoscopes of the countries worst hit by the virus. A country's horoscope is based on its history and when it was considered technically sovereign. This branch of astrology is known as Mundane Astrology.
Well known American astrologer Doris Chase Doane wrote a book entitled "Accurate World Horoscopes" in which she explains the historic moment she has researched as the current birth of a particular country. It is a huge area and would cover at least another article.
However as a starting point I have examined a few of the worst hit countries from the natal planetary positions of countries listed in Doris' book which aspect the Saturn/Pluto conjunction (22deg. 47min. Capricorn) plus the critical degrees of 26deg. Cardinal and 17 deg. Mutable.
Italy has natal Venus at 20.44 Cancer, Saturn at 23.20 Cancer (Cardinal) plus Uranus at 17.39 Gemini and Sun at 18.55 Gemini (Mutable).
Spain has Saturn at 19.42 Aries and Pluto at 29.15 Cancer R. (Cardinal).
USA has Pluto at 27.34 Capricorn R opposition Mercury 24.28 Cancer R (Cardinal) and Mars at 20.57 Gemini (wide Mutable).
United Kingdom has the Moon at 19.10 Cancer (Cardinal) plus Mercury at 17.34 Mutable.
Australia has Pluto at 16.16 Gemini R and Uranus at 14.17 Sagittarius (Mutable). Interestingly Australia had its Jupiter return in November 2019, which might have given some indication of the success achieved at keeping the number of deaths low. There is no doubt that we in Australia will be 'planting new, strong seeds for the future' in the coming year.
Pamela Rowe, LPMAFA, FMFAA ©
May 2nd, 2020.
References:
"Looking out and staying in" by Mary Plumb, The Mountain Astrologer
"2020's Mind-Blowing Jupiter/Pluto Conjunction: Shadow & Light' by Dana Gerhardt
"Larousse Encyclopedia of Astrology" by Brau, Weaver & Edmands
"Accurate World Horoscopes" by Doris Chase Doane
"Rules for Planetary Pictures" by Ludwig Rudolph
"A to Z Horoscope Maker and Delineator" by Llewellyn George, first published in 1910.
"Combination of Stellar Influences" by Reinhold Ebertin
"Astrological Healing" by Reinhold Ebertin
Café Astrology
Solar Fire software printouts