Australia's Prime Minister 2022 - Anthony Albanese
A New Direction for Australia
Pamela Rowe, LPMAFA, FPMFAA
Australia's new Prime Minister Anthony Albanese rose meteorically to the top job on May 21, 2022. He has a Pisces Sun, born March 2, 1963 in Camperdown NSW (according to Wikipedia). Because Mr. Albanese's birth time is unknown, we have to work with the information we have, so the Ascendant, Midheaven and House Cusps cannot be described as accurate. However, I have found that when the birth time is unknown, charts calculated for noon on the date of birth can provide plenty of information. (Fig.1)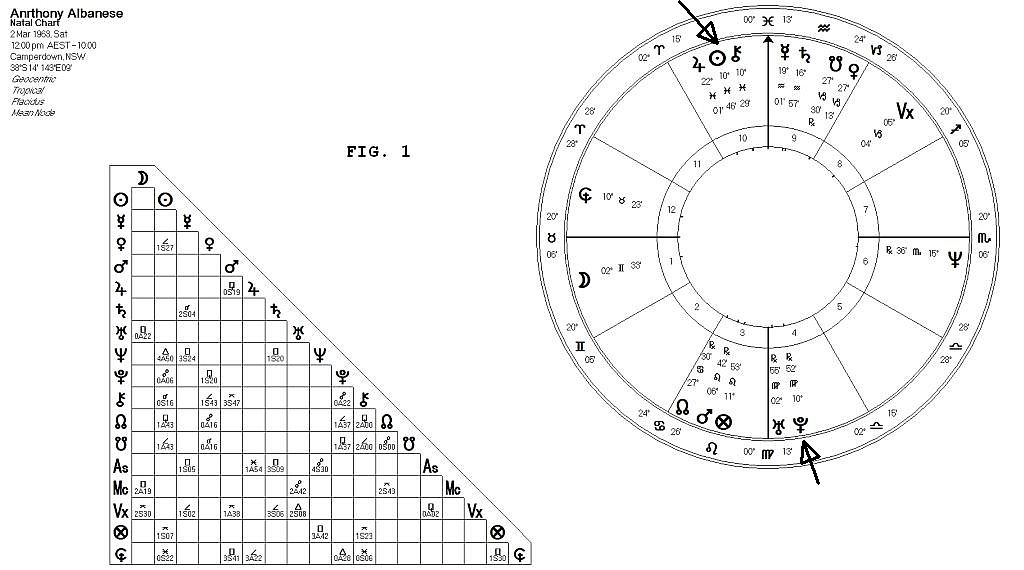 Mr. Albanese's Pisces Sun is in the Cancer decanate = closeness to mother, nurturing qualities – and is conjunction to Chiron the wounded healer, suggests pain through male powerful figures, but also healing of others when he is the powerful figure.
The Sun is opposition to Pluto (=power issues and struggles, transformation in the life of a male person) and also in wide opposition to Uranus (= sudden unexpected events in the environment).
The Moon is in late Taurus or early Gemini, depending on the actual birth time, square to Uranus = emotional excitability, determination, overstraining of the nerves.
Overall the natal Sun and Moon suggest great determination and many changes plus strong and important links with overseas countries.
Mercury in Aquarius is in the Gemini decanate, conjunct to Saturn = fixed, loyal ideals and plans, humanitarianism. Mercury is square to Neptune, suggesting intuitive, compassionate traits towards the needy and underprivileged, plus a love of the Arts, but also undermining factors and the need to keep things in perspective. Positive outlets such as yoga and meditation offer a relaxing contrast for the nervous system.
Venus is at 27 degrees Capricorn sesquiquadrate Pluto = intense love of politics and Government concerns, upheavals through a loved person. Venus conjunct the South Moon Nodes = fated experiences in love or through loved ones.

In fact, the whole Sun, Pluto, Chiron, Venus, Moon nodes axis is a karmic pattern which can be activated positively and/or negatively during the lifetime. In 2022 transiting Pluto in Capricorn has conjoined the natal Venus, so this natal pattern has been activated in a big way. Pluto transit = transformation, changes, an 'all or nothing' approach to life.
Albo's Natal, Secondary Progressions & Election Transits (Fig. 2)
On Election Day we always consider the transits for 8:00 pm in Canberra ACT, which usually provides us with a good idea of who has won the Election.
Albo's SP Sun and Mercury are now in Taurus and the SP Moon is in Leo, close to the natal Mars = a phase of expansion and growth. Also 59 years of age is a significant period for all of us with transiting Saturn and Jupiter commencing new cycles of growth and Mr. Albanese was no exception. He was in a strong position on election day May 21, 2022, having experienced these planetary return cycles in recent months. His Jupiter return actually occurred on April 4, 2022 and his Saturn return on February 13, 2022 -- encouraging him on as he embarked on his new destiny pathway.
The fact that Jupiter was conjunction Neptune on April 13, 2022, (2 degrees from Albo's natal Jupiter) shows vision, travel and unlimited expansion, but also an intuitive need to use the Saturn to apply the grounding factors of transiting Saturn and his SP Sun and Mercury in Taurus.
In addition SP Mercury was square to transiting Pluto = power of thought and communication.
Albo's Natal, Solar Arc Directions & Election Transits (Fig. 3)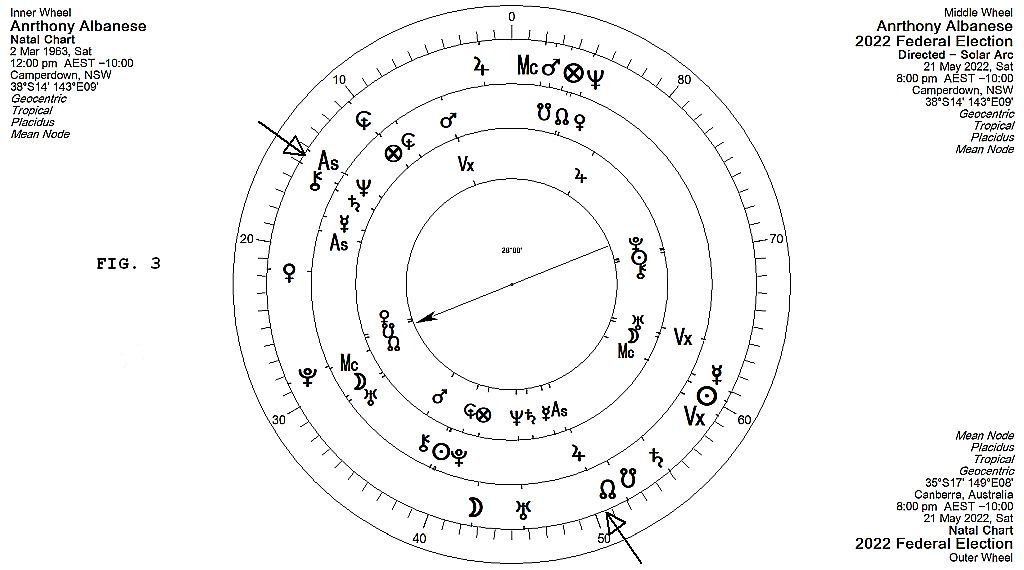 Natal and SA Venus = Moon Nodes axis were activated by solar arc, intensifying love energy, which reflected in Albo's dealings with the masses and in his personal relationships. The involvement of Pluto by transit and solar arc also intensified this potential.

At a later date Albo's natal power/healing pattern will activate the natal health pattern, which includes the nervous system in about 6 – 7 years, testing his resistance and the plans made in 2022. As mentioned, a positive yoga/exercise and meditation regime will strengthen his outcome.

As a Sun Pisces person the need to please and accommodate many is always a challenge. However, the commencement of Mr. Albanese in his Prime Ministerial role had a very positive start, which will hold him in good stead for the many tests ahead.
Australia's Natal (Fig. 4), plus Natal, Secondary Progressed & Election Transits (Fig. 5) show environmental change and resettlement of the then Opposition party. The SP Moon Nodes was activated by a half-cycle of transiting Moon Nodes = a karmic relationship event for the nation. Transiting Neptune was in its waning square to its natal position, focusing on health matters of the people and sensitive overseas connections.
Unfortunately the inner tri-wheel figures have become jammed due to the large number of planets aligning on Australia's birth date I use for the Australian chart, January 1st, 1901, when we became a Federation.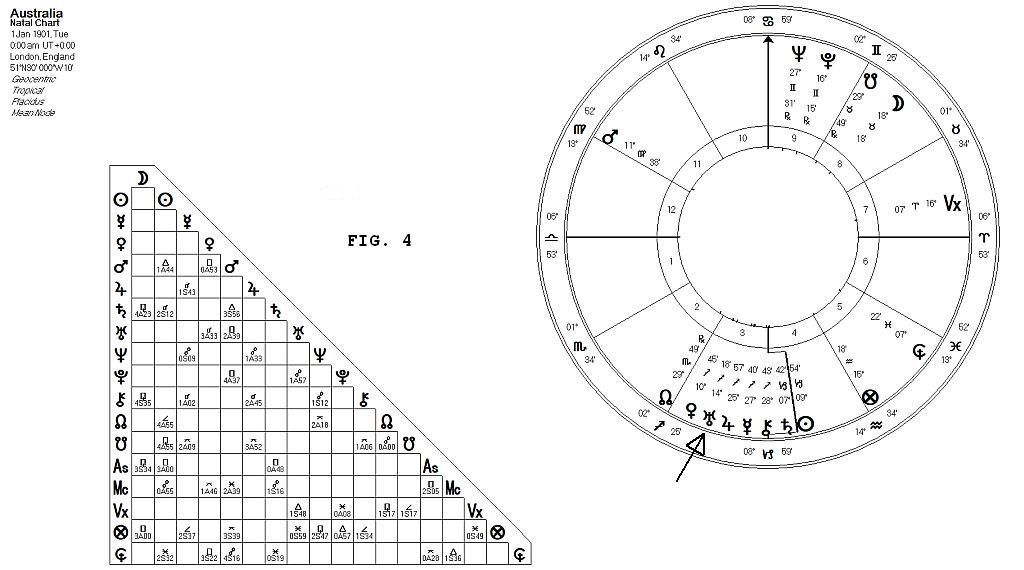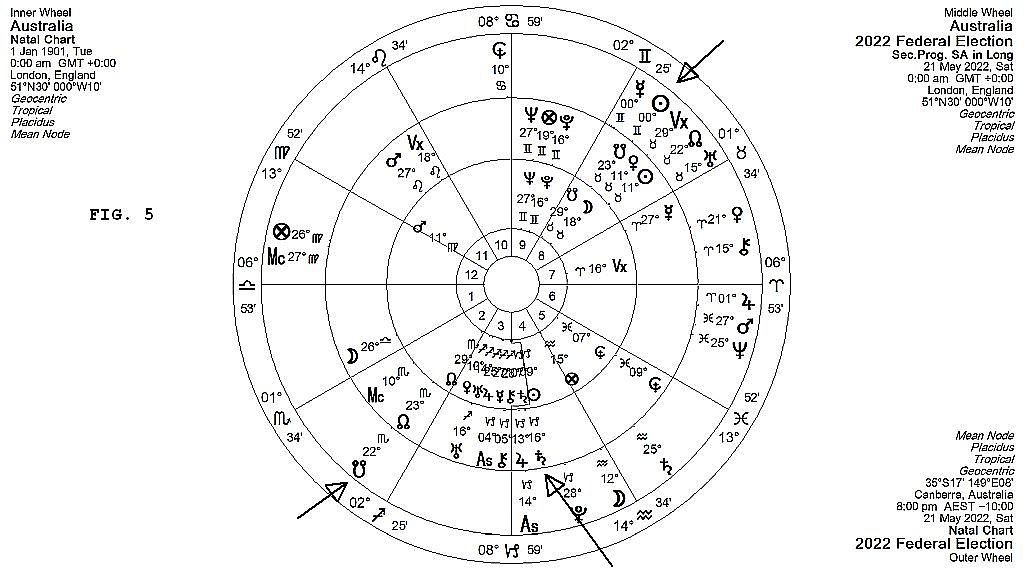 Australia's Natal, Solar Arc Directions & Transits Tri-Dial (Fig. 6)
In Australia's natal chart Pluto is opposition Uranus , which describes the multi-cultural society we live in and coincides with periods of great change when activated. It also describes the amazing input Australia enjoys from many great minds, activities and deeds of its citizens – and this pattern was activated by SA Mercury and Neptune plus the transiting Pluto.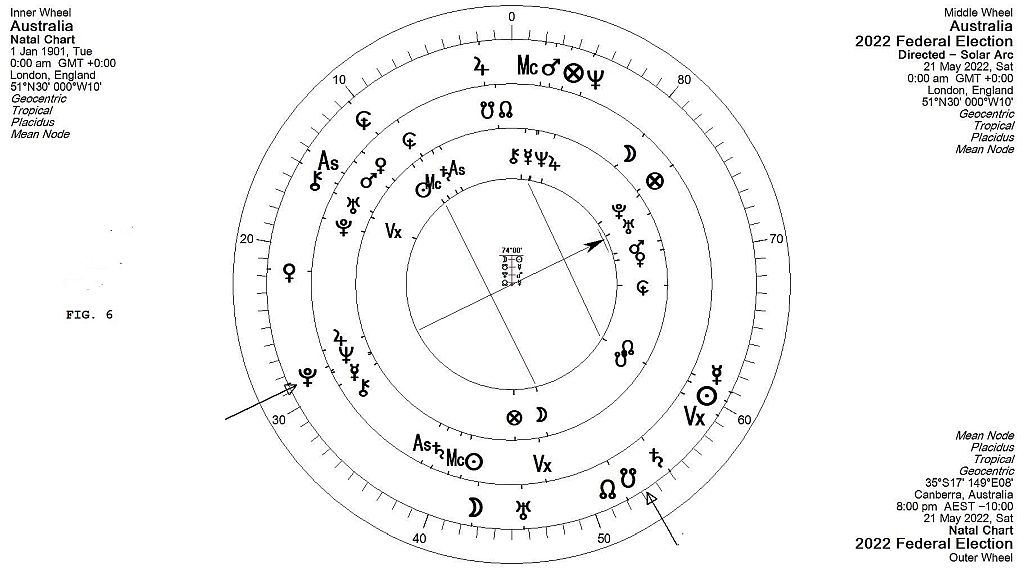 It can be seen that great change would have occurred as a result of the May 21, 2022 election, whichever Party had won, but I suspect that the Australian natal Mars in wide square to the natal Uranus/Pluto opposition described the many aggressive outbursts we heard from groups, friends and neighbours prior to this momentous election.

Pamela Rowe
August 2022.
References:
'The Combination of Stellar Influences' by Reinhold Ebertin
'Solar Fire' charts by Esoteric Technologies.