THE SWINGS & ROUNDABOUTS OF AUSTRALIAN POLITICS
-- A GEODETIC VIEWPOINT
by Pamela Rowe, LPMAFA, FMFAA
In recent years Australians have lived through a saga involving the wrestle for the top job of Prime Minister. The charts of the contenders have already been thoroughly discussed. However I would like to view the charts from a Geodetic viewpoint, especially regarding prospects and motivation.
Geodetic astrology is commonly used in mundane astrology and to research weather and world disasters. However it is also interesting to review personal natal charts from this perspective. It is not new but was used by English astrologer Sepharial in his book "Theory of Geodetic Equivalents" published in the 19th century, now out of print. L.Edward Johndro and Paul Counsil contributed considerably during 20th century.
Chris McRae, PMAFA of Canada is a well known contemporary astrologer who specialises in Geodetic astrology. I saw her lecture several times in the US and have her book "The Geodetic World Map".
GEODETIC ASTROLOGY is based on a world map of 360 degrees, commencing at the 0 degrees meridian in Greenwich, with 0 degrees Aries as the Midheaven position. Each degree of geographic longitude corresponds to a degree of the zodiac. Locations with 0 degrees Taurus Midheaven are located 30 degrees east of Greenwich and so on around the world.
The Geodetic Ascendant and house cusps are calculated from the Geodetic Midheaven. They are not dependent on the time of birth as in a normal relocated chart. Geodetic astrology certainly gives an interesting new perspective as to how you relate to your birth place, or any other location in the world.
For Cosmobiologists the Geodetic Ascendant and Midheaven become new pivotal points in the aspect and midpoint structure patterns, adding new information to the interpretation.
Your astrology teacher can show you the Geodetic calculations, otherwise your astrology software will calculate the Geodetic chart for you. Solar Fire has an effective calculation with instructions and some alternatives, including the Right Ascension method. The software adjusts the birth time, according to the chosen location.
In his article in 'Horizon', the Newsletter of the Victorian Astrologers Association, Inc., entitled 'Technical Tips -- The Geodetic Chart', May 2003, Neville Lang outlined his research in the area.
MELBOURNE has a Geodetic Midheaven of 24.58 Leo and Ascendant of 17.23 Sagittarius.
CANBERRA has a Geodetic Midheaven of 29.08 Leo and Ascendant of 19.41 Sagittarius.
SYDNEY has a Geodetic Midheaven of 1.13 Virgo and Ascendant of 20.43 Sagittarius.
ADELAIDE has a Geodetic Midheaven of 18.35 Leo and Ascendant of 8.56 Sagittarius.
PERTH has a Geodetic Midheaven of 25.51 Cancer and Ascendant of 9.40 Scorpio.
HOBART has a Geodetic Midheaven of 27.19 Leo and Ascendant of 23.39 Sagittarius.
DARWIN has a Geodetic Midheaven of 11.35 Leo and Ascendant of 19.47 Scorpio.
The natal planets are placed into the empty Geodetic chart for the chosen location to coincide with your life purpose. I use the Placidus cusps, but you may prefer another system of house division.
Natal planets relocating onto the Angles and in particular conjunct the MC/IC and Asc/Dec axes will gain new significance. Even without an accurate birth time both hard and beneficial natal aspects can provide new and surprising insight when expressed through different houses. The examples used in this article are located for Canberra, Australia's seat of power.
OUSTED PRIME MINISTER JULIA GILLARD (Fig.1) was born in Wales with a natal Midheaven of 18.46 Virgo and Ascendant of 26.02 Scorpio. Her natal Ascendant falls into the Canberra Geodetic 12th house and her natal Midheaven falls into the Canberra Geodetic 5th house. (Birth time source Ed Tamplin, FAA Journal, June 2012).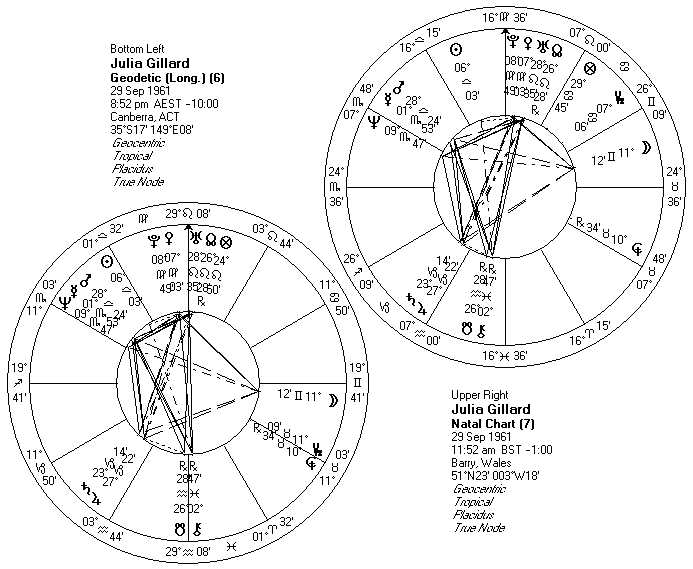 As expected, several natal planets fall close to the Geodetic MC and in the 10th house of profession and worldly honour. The natal North Moon Node in 9th is conjunct the Midheaven (G), with South Moon Nodes in 3rd house of communication. Natal Uranus is conjunct the Midheaven (G), with natal Venus conjunct Pluto in Virgo in 10th (G). Natal Chiron is opposition in 4th (G).
The Moon Node axis across the MC/IC axis (G) indicates a fates career in Canberra involving communication and education. The sudden implication of reaping seeds previously sown is unmistakable when considering the Uranus, Chiron, Moon Nodes, MC/IC (G) combination.
As Gillard's highest planet in the Geodetic chart is Uranus, it explains why she was a trailblazer as Australia's first female PM, but her career motivation was revolutionary, based on fixed ideals (however Utopian), and abrupt change. Her natal Venus and Pluto in 10th show the love and passion she had for the top job.
OPPOSITION LEADER TONY ABBOTT (Fig. 2) was born in London with a natal Midheaven of 11.56 Cancer and Ascendant of 9.09 Libra. His natal Ascendant falls into the Canberra 11th house (G) and natal MC in the Canberra 8th (G). (Birth time source Ed Tamplin, FAA Journal March 2013).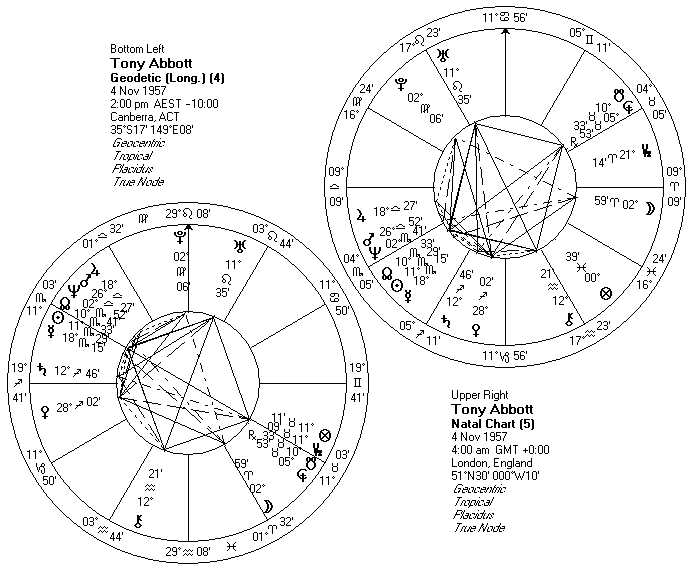 Abbott's natal Pluto, ruler of his Scorpio Sun, is in the Canberra geodetic 10th house, conjunct the Midheaven. The Pluto suggests a passion to transform the country, resurrect and bring back to life that which has been destroyed. Power struggles seem unavoidable.
His natal Venus in Sagittarius rises in Canberra's Geodetic 1st house, describing a love of beauty and nature, plus a strong popularity in some sectors. Saturn, Mercury and the Sun in the Geodetic 12th express an enjoyment of discipline and tradition, but it will attract delays and hurdles created by others and possibly some inhibitions in communication.
The combination suggests good manners, patience and shyness, to replace the 'knock 'em down, drag 'em out' political attitudes Australians have witnessed from other politicians in recent years. It could also explain the strong 'for or against' attitudes Abbott generates from the public.
Abbott's natal Sun in the (G) 12th house is in a 'T' square to Uranus in 9th and Chiron in 3rd (G), so disruptive moral and legal issues from behind the scenes in Canberra should not surprise him.
Canberra's pivotal geodetic Ascendant/Midheaven midpoint is 24.25 Libra. Gillard's natal Mars is 28.24 Libra and Abbott's natal Mars is 26.52 Libra. Transiting Venus is at 25.33 Libra on Election day.
FORMER PM AND CURRENT CARETAKER PM KEVIN RUDD (Fig. 3) was born in 1957 in Nambour, Queensland Australia, only weeks before Tony Abbott. We do not have a birth time for Rudd, but in such cases we use a noon chart, which is the midpoint of the day of birth.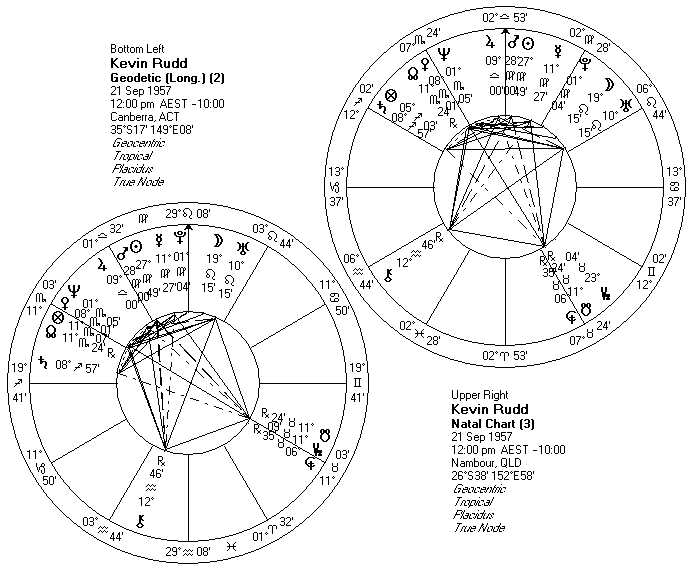 As with Abbott, Rudd's natal Pluto is in the Canberra 10th (G), conjunct the Midheaven, generating power and transformation issues. The difference is that Rudd's natal Mercury, Sun and Mars are also in the 10th (G), greatly emphasising his role and aspirations as a leader. Such a strong group of planets in the geodetic 10th of a location attracts leadership opportunities, but would also highlight Rudd's autocratic leadership style.
Being born on September 21, his natal Sun is placed at the end of the sign of Virgo, a sign not usually associated with leadership qualities. However his Sun is conjunct to Mars, adding impulsiveness and a fighting, militant spirit. In his case it is expressed intellectually, rather than in a sports arena or on the battlefield. The Sun and Mars oppose the fixed star Scheat, making it a heavyweight position, sometimes fraught with risks.
The placement of Rudd's large "bundle" of natal planets between Uranus in Leo and Saturn in Sagittarius on his day of birth could be an asset or liability, depending on his exact time of birth, that is whether the "bundle" is rising, culminating or setting.
It is interesting that Gillard, Abbott and Rudd are all born in an era when their natal Pluto is in Canberra's geodetic 10th, to coincide with this unsettled phase in Australian politics.
FEDERAL ELECTION DATE SEPTEMBER 7, 2013
Mr. Rudd has announced the Election date one week before the original date of September 14, chosen by former PM Gillard. Below are bi-wheels for the two contenders with their Canberra Geodetic chart in the centre wheel and transiting planets for the election in the outer wheel. I have timed the Election chart for 8.00 pm, when some indication of the outcome should be apparent. It is important to note the transiting planets through the Canberra Geodetic houses, especially the slow moving planets, as an overall 'sign of the times for each person'.
Generally speaking the continuing squares between Uranus and Pluto have generated a compulsion for change amongst the population on many levels. On Election day the Moon in Libra is applying to the pattern, highlighting deep feelings and unsettling, rebellious emotions. Mars is applying to a square to Saturn and the Moon Nodes, suggesting a willingness to cut ties.
In TONY ABBOTT'S GEODETIC CHART Bi-Wheel, transiting Saturn has moved past the conjunction to his natal Neptune in 11th (G) by 5 degrees (=increasing confidence). There is little doubt that major change on several levels is shown in Mr. Abbott's chart and that time and circumstances have strengthened his cause.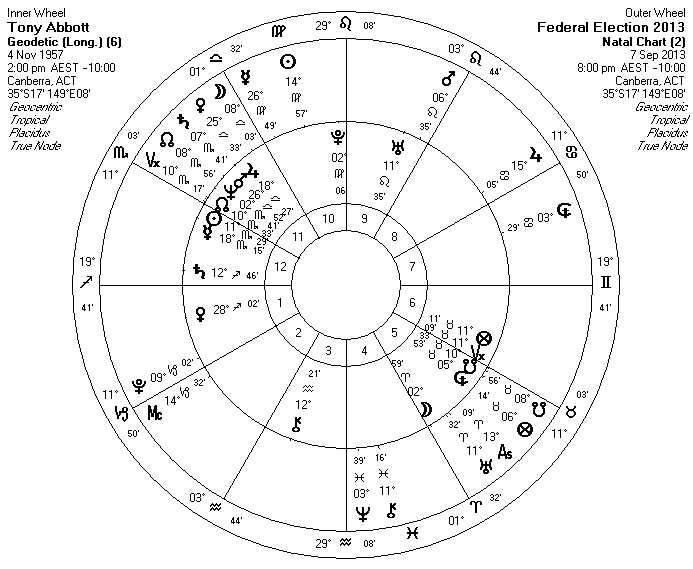 Transiting Saturn conjunct Moon Nodes is conjunct Abbott's natal Moon Nodes for his nodal return and Saturn (t) is applying to his natal Sun in Canberra's (G) 12th, heralding an extremely karmic period for him. Despite being a hard taskmaster, Saturn can be seen to add credibility, plus the ability to sustain a heavy load, especially in relation to Government affairs.
Transiting Sun in 10th (G) is in an applying sextile to Abbott's natal Sun and Mercury, but hasn't reached the vulnerable balsamic phase in his personal solar year.
Caretaker PM KEVIN RUDD'S GEODETIC CHART Bi-Wheel
Rudd is also experiencing his Moon Node return, heralding his own new 18.5 year cycle. On Election day transiting Mercury is conjunct his Sun and Mars in 10th (G) and transiting Pluto is exactly square to his natal Jupiter in 11th (G) (=gamble, benefits, gifted speaker), both strengthening aspects.
Transiting Saturn and Moon Nodes are conjunct his natal Venus, which is square natal Uranus in 9th (G) and applying Mars (t) (=tension, ultimatums regarding moral issues, crossroads, breaking new ground).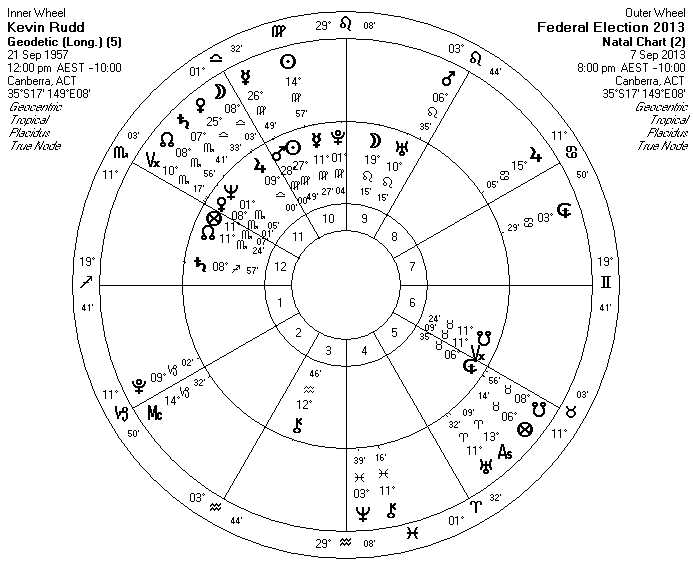 Transiting Sun is in its balsamic phase to his natal Sun. I have researched this annual period in many charts over the years and have written much about it. It is a vulnerable and reflective period in the solar year and not usually the best time to commence new ventures, but the fact that this is not a new venture for Rudd, rather the resolution of a past issue, could help make it work for him.
Cosmobiology
Being born so close together, both Abbott and Rudd have natal Pluto conjunct the Canberra Midheaven (G) and this aspects the transiting Jupiter/Uranus midpoint on Election day=sudden events, release of tension. Both have the Pluto and Midheaven = Jupiter (t)=make or lose a million.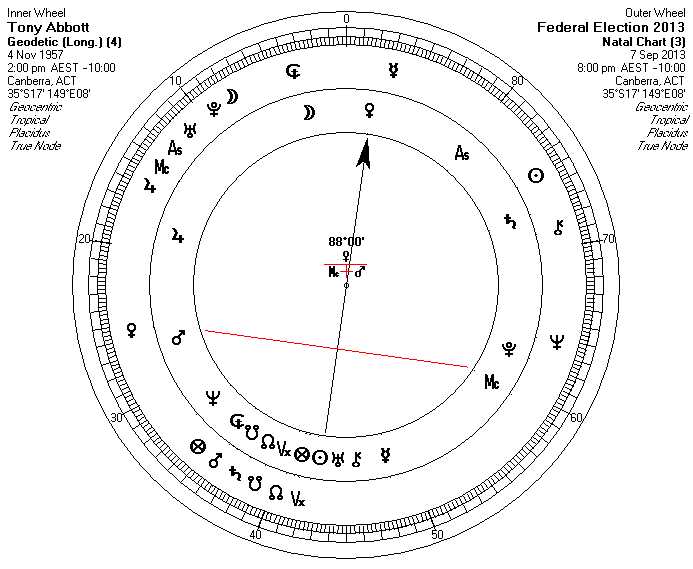 However Rudd has transiting Pluto=Jupiter (natal) as well as transiting Jupiter=Pluto (natal), doubling the 'make or lose a million' effect. It highlights the enormous gamble he is taking. Whether it will be enough for him to retain his position in view of his heavier aspects on the day will have to be seen.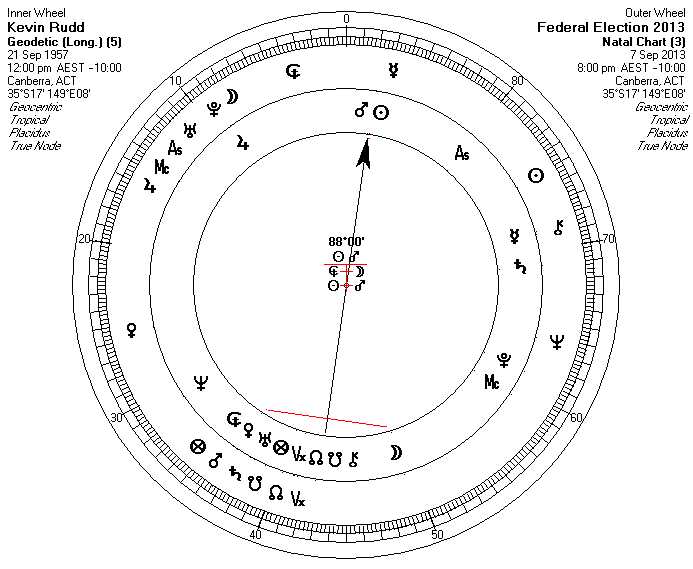 My research is continuing on the geodetic charts of former Australian Prime Ministers. Also for USA past and present Presidents, as they relate to Washington DC, the US seat of power.
Pamela Rowe
August 7, 2013
(G = Geodetic, t = transit, n = natal)
BIRTH DATA:
Julia Gillard: September 29, 1961, 11:52 am BST, Barry, Wales.
Tony Abbott: November 4, 1957, 4:00 am GMT, London, England.
Kevin Rudd: September 21, 1957, 12 Noon AEST, Nambour, Queensland, Australia.
POSTSCRIPT TO FEDERAL ELECTION
The Australian Federal Election is behind us and it can be seen from the above article that our new Prime Minister Tony Abbott had the strongest chart on Election day to win for the Liberal Party.
It just goes to show that the astrological charts are a reflection of the cycles of the individuals involved, plus the overall patterns in the heavens on Election day, which also reflect the mood of the population. The challenge for the astrologer is to read and understand the signposts. In this case it was a fairly clear outcome.
Mr. Abbott will face many challenges in his early weeks in office, at least until after his birthday on November 4, when his new solar year commences. He is now into his annual solar balsamic phase, which will test his physical endurance and attract plenty of tidying up and resolution work behind the scenes. However his inbuilt sense of discipline plus Saturn currently moving through his Scorpio Sun sign will generate increased credibility and important opportunities from the highest levels of world Government.
Pamela Rowe
October 9, 2013.