Astrology News
News
Regularly updated to keep you in touch with the latest events at the Academy.
Australian Academy of Astrology & Cosmobiology

WEBSITE NEWS!
NEW ARTICLE "ROBIN & ELVIS -- HOLLYWOOD ICONS" by Pamela Rowe.
The month of August commemorates the death of both Robin Williams and Elvis Presley, Robin one year ago and Elvis 38 years ago. It is hard to imagine that if he had lived Elvis Presley would have been 80 years old in 2015.
Pamela Rowe has written an article reviewing some of the astrological patterns Robin and Elvis faced as they left us with many memories of their wonderful talents.
OTHER AAAC WEBSITE ARTICLES
"The Mysterious Disappearance of Malaysian Flight MH370" by Pamela Rowe.
THE GRASS ROOTS OF COSMOBIOLOGY -- A Workshop by Pamela Rowe
The Victorian Astrologers Association, Inc. hosted this one-day Workshop on May 25, 2014. We had a relaxed, fun-filled day and an enthusiastic response from those present. Many thanks to the VAA President and Committee for their excellent and professional hospitality.
"BARACK OBAMA & THE IMPACT OF THE URANUS/PLUTO CYCLE -- THE GEODETIC PERSPECTIVE" by Pamela Rowe. This article examines the chart of the US President relocated onto the Washington DC Geodetic chart. It discusses how the current Uranus/Pluto cycle highlights this location.
*** "THE SWINGS & ROUNDABOUTS OF AUSTRALIAN POLITICS -- A GEODETIC VIEWPOINT" by Pamela Rowe. This article reviews the wrestle for the top job of Prime Minister and the contenders, Kevin Rudd and Tony Abbott.
This article posted one month prior to the September 7, 2013 Federal Election.
FOLLOWED BY September 27, 2013 POSTSCRIPT to the Federal Election
*** "THE BIRTH HOROSCOPES OF GIFTED PSYCHICS" by Pamela Rowe. This has been updated and reproduced as a result of the warm response by Victorian Astrology Association Inc. members to Pamela's presentation of The Doris Greaves Memorial Lecture 'PSYCHIC OR PSYCHIATRIC' on Saturday July 20, 2013. Thank you VAA members.
'MEDICAL ASTROLOGY -- HIDDEN TRIGGERS -- THE TRANSITING MIDPOINTS' article by Pamela Rowe, comments on how significant the hidden triggers proved for Michael Jackson's life and death in 2009.
Click here to read these articles (Link to Articles)
SALE OF AAAC TEXT BOOK -- SPECIAL OFFER
"PATHWAY TO 21ST CENTURY -- A PRACTICAL GUIDE TO ASTROLOGY" is being offered to visitors to this website for $12.95 plus postage. See Book Order Form on this website.
PRE-LOVED ASTROLOGY BOOKS FOR SALE -- See 'Books & Resources' on this website.
CONGRATULATIONS TO AAAC GRADUATES
Over the past 20 years or so we have had many successful graduates from our Academy, of whom we are justifiably proud. Ethical practice is incorporated into the AAAC Syllabus and you may have met one of our graduates, quietly using their astrology to help others. We urge and encourage our graduates to do so.
The relationship between AAAC and the media has been happy and fun-filled, because we as astrologers want the world to know how astrology can help people understand themselves and others -- so we try to co-operate with genuine seekers of truth. Sadly the occasional reporter will dump serious astrology in with unrelated practices and make incorrect assumptions in a published article, in order to create a story which, even as an ignorant observer, he or she believes may attract readers.
In other words, DON'T BELIEVE EVERYTHING YOU READ ABOUT ASTROLOGY IN THE NEWSPAPERS. Find out for yourself. If any newspaper article on astrology concerns you, send us an email.
'THE CRYPTIC CYCLE

' ..

Although much work has already been done on the Solar Saros Cycle, the fascinating LUNAR SAROS CYCLE has generally been neglected.

MURRAY BEAUCHAMP, Researcher and Professional and Diploma Member of the Australian Academy of Astrology & Cosmobiology, has worked for many years with the Lunar Saros Cycle. His book "THE CRYPTIC CYCLE -- ASTROLOGY AND THE LUNAR SAROS" is now available. Email pamrowe@astrocos.com.au for details on how to purchase your copy.

LEARNING ASTROLOGY

With the advent of the computer age the techniques of astrology are fast becoming a dying art, as computer software in many instances, replaces direct knowledge. Most astrology students eventually own computers and astrology software, but at the Australian Academy of Astrology & Cosmobiology all are required to learn astrological techniques. Our long history of excellent results and fine graduate astrologers confirms the wisdom of this policy.
ASTROLOGY IN THE 21st CENTURY
After 30 years of successfully teaching astrology in the class room, demand has required the Australian Academy of Astrology & Cosmobiology to place greater emphasis on BEGINNERS learning astrology via correspondence or through the internet, in the comfort of their own homes. We may again offer a Beginners class in the classroom in the future, in which case full information will be posted on this website.
AAAC CORRESPONDENCE COURSES
We offer a 10-lesson BEGINNERS ASTROLOGY CORRESPONDENCE COURSE (ISBN 0-646-45388-2). When Beginners is completed, students can then commence the 10-lesson INTERMEDIATE CORRESPONDENCE COURSE (ISBN 0-646-45389-0).
The Australian Academy of Astrology & Cosmobiology Correspondence Courses can be commenced at any time of year and completed at your leisure. Feedback from our correspondence students is excellent and their progress very good.
FURTHER AAAC COURSE INFORMATION
Browse the rest of this website, email pamrowe@astrocos.com.au or complete the Course Information Request Form under 'Course Information' on this website for further information on the Correspondence Courses.
Students have the option of enrolling for the 10 Units of the Beginners Correspondence Course, or alternatively completing it in 2 parts, each consisting of 5 lessons. When we receive your Course Information Request Form we will send you more detailed information.
PURCHASE BOOKS online. See 'Books & Resources'.
AMERICAN FEDERATION OF ASTROLOGERS, INC.
Australian Accreditation Examinations for AFA are held periodically in Melbourne, Victoria, Australia.
All astrologers and students are welcome to sit these long-established and Internationally recognised astrology examinations.
ENQUIRIES FOR AFA AUSTRALIAN EXAMINATIONS & MEMBERSHIP
Contact Pamela Rowe, Email pamrowe@astrocos.com.au
ENQUIRIES FOR AFA EXAMINATIONS & MEMBERSHIP ELSEWHERE IN THE WORLD
Contact AFA Head Office Tempe Arizona USA by emailing info@astrologers.com
or alternatively visit the AFA website American Federation of Astrologers
A THOUGHT FROM THE ACADEMY -- From William James "The art of being wise is the art of knowing what to overlook."
ASTROLOGICAL MEMORY LANE
Reinhold Ebertin, founder of Cosmobiology with Pamela Rowe
Stuttgart Conference, Germany 1981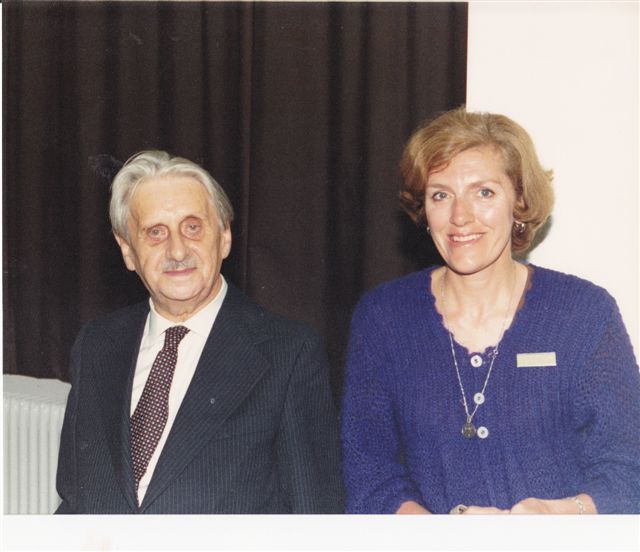 AAAC Research Group
Murray Beauchamp's Book Launch
September 20, 2008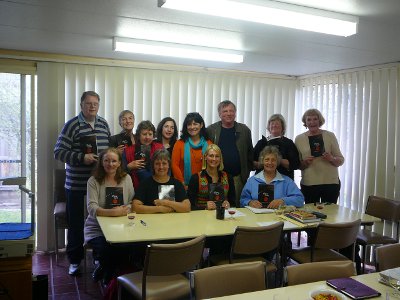 Examination day at the Academy